Posted by Sophie Westrope on February 1, 2013 · 1 Comment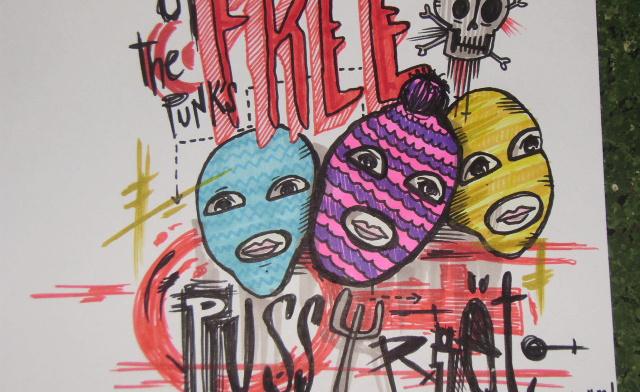 UNLESS you've been living under a rock, you'll be aware of the worldwide media frenzy sparked by punk-rock collective Pussy Riot. This all-women group shot to global fame after staging a provocative anti-Kremlin performance (albeit 30 seconds long) in a Moscow cathedral.
The feminist rock collective, who've already won a cultural war by forcing broadcasters to utter the tabooed word 'pussy' in news bulletins, create music that deals with Russian government issues. Pussy Riot was originally fashioned in the aftermath of Putin's announced return to presidency. This news fuelled their annoyance and so on went their uniform of neon balaclavas (for anonymity) and out came the claws.
The ladies took to Christ Saviour Cathedral with their woollen masks and an impromptu performance of their minute long 'punk prayer'. Screaming lyrics like 'mother Mary, please drive Putin away' caused frenzy amongst worshippers, ultimately resulting in the ladies arrest. Three of the girls were charged with "hooliganism motivated by religious hatred" despite their motive to stage musical a protest against their country's leader, not fellow citizens.
The case that followed would become one of the highest profile Russian political trials since Putin originally rose to power in 2000. The girls were put behind bars for their high-kicking, fist-pumping fuelled performance that urged the Virgin Mary to join them and become a feminist. If joining gets you your very own day-glo balaclava then it's surprising that she didn't!
It's clear that Russia's leader is Pussy Riot's ultimate nemesis. Freed band member Yekaterina Samutsevich told how Putin had backed the decision to punish them. "Such decisions don't happen without the President," she said. "It was motivated by personal hate."
Unluckily for him, despite jailing the radical rioters, he cannot stop the international shockwaves of support for Pussy Riot.
Amnesty International dedicated an entire day to the imprisoned women. 'Pussy Riot Global Day' saw people, from London to Ottawa, uniting with pride and makeshift neon facial attire. In New York, actress Chloë Sevigny read court statements to the masses while women's activist group Femen took a more hands-on approach; chain-sawing down a wooden cross in Kiev… topless. Even Beatles legend Paul McCartney sent his support for the girls with a handwritten letter via Twitter.
And who better to gather support from than the Queen of Pop herself? Yes, even Madonna jumped on the Pussy-bandwagon, stopping a concert to discard her top revealing 'Free Pussy Riot' emblazoned across her back. She seems to have become their unofficial poster girl, even selling Pussy Riot T-shirt merchandise on her online store.
Regardless of any repercussions – past or future – they may face, Pussy Riot lives on. Not only in the minds of those original lady punk rockers but in the hearts of all those fighting for the rights of women worldwide. And while these ladies serve their sentences in notoriously harsh remote women's prison camps, we can all help fight for the right to riot.
Support Pussy Riot and other prisoners of conscience in Russia and around the world at amnesty.org.uk
[This post was originally created for a third year digital packaging assignment on my degree]