Posted by Sophie Westrope on November 3, 2014 · Leave a Comment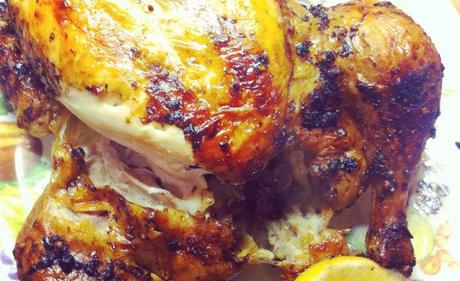 Here's something a little different to my usual post. A friend requested a recipe for some very lovely chicken I made for tea this evening. And while I don't profess to be the next Nigella or Gizzi I think this was probably one of my best meals by far. I served it up with green beans and roasted garlic and herb butternut squash. Hope you all approve!
Ingredients:
– 1 fresh whole chicken
– half of a fresh lemon
– ready made lemon juice
– Virgin olive oil
– piri piri spices (or whichever seasoning you wish to try) – I used a Knorr shake seasoning I found in the herbs and spices aisle of the supermarket
– a nob of butter or sunflower spread
Method:
Pre-heat your oven (I used a fan oven) to 200 degrees while you prepare the chicken. Take olive oil, lemon juice and piri piri spices and add to a small bowl and mix together with a food brush or a spoon or your fingers, whichever is easiest for you! Add as much spice as per your preference.
Take your fresh lemon and pop it inside the chicken so it'll add extra flavor while the bird roasts. Then use a sharp knife and score lightly through the top of the breast of the chicken, not too deep. Take your mixture and using your hands rub it all into the chicken, making sure you get all of the skin and paying special attention to the breast.
Add some extra seasoning on top when you're done if you wish and take an appropriate sized nob – whichever size floats your boat – and rub a little in with the herbs and spices.
Shove an extra blob of butter/on top for good luck and place on roasting tin in oven to cook for about 1 hour 30/1 hr 45 depending on size of chicken.
It's always a good idea to turn the bird over half way through so the juices run through the breast to make sure it's nice and succulent and (I hate this word but it's apt) moist (GAG).
Enjoy your pretty poulet, folks!