Yeah. You read that correctly.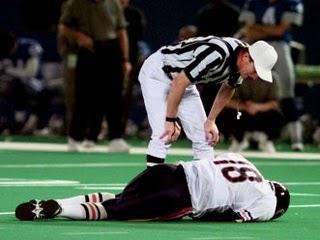 Former Chicago Bears QB Kyle Orton, after meeting a large dragon.
Uniform and image © National Football League/ Chicago Bears.
So I'm watching the ESPN pre-game show for Week One of the 2011 NFL season. In between the hand gestures, football analysis and season-opening hype, I catch the following commercial:
Commercial for NFL.com © 2011 National Football League
That's former NFL coaches Steve Mariucci and Dennis Green, having a little subterranean fantasy football draft. The soundtrack: the opening scene of Mozart's
Die Zauberflöte
. For those of you who don't play fantasy football, Coach Mariucci selected Arizona Cardinals wide receiver Larry Fitzgerald to his team in the second round, a smart move.
The operatic excerpt features Mozart's young hero, Tamino. As the curtain rises, he enters, like some NFL quarterbacks, literally running for his life. The pursuer: not James Harrison or Ray Lewis but a big ol' dragon, which (for no apparent reason) is patrolling the banks of the river Nile in Egypt. Of course, you could imagine your favorite NFL defenders in place of the beast.
The prince faints, rather than be sacked for a loss. The monster is defeated by the Three Ladies of the Queen of the Night. We're not sure whether the three spear-carrying warrior-women represent the other team's chop-blocking offensive line, or the on-field officials that pull the dragon off the prince with a well-placed  yellow flag.
By the way, the commercial features the 1954 recording of Mozart's
Die Zauberflöte
available as a bootleg from the European label Myto. The set features Rudolf Schock as Tamino, Theresa Stich-Randall, Josef Griendl and Hans Hotter. The perpetually underrated Joseph Keilberth conducts.