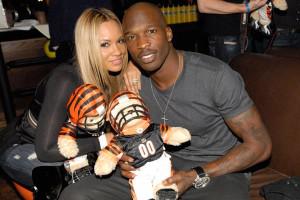 This past weekend we learned of the alleged Domestic Violence complaint filed by the one and only Evelyn Lozada better known as the evil chick from Basketball Wives. Apparently her husband of 41 days, NFL star Chad Johnson formerly known as Chad Ochocinco, decided to head butt her after an argument escalated over a condom receipt found in the smallest car I've ever seen in my life (smart car). She runs to the neighbor house and he apparently calls the police and tells them to send someone out and that "these are high profile people, don't call the media". Chad denies the claim and claims that Evelyn head butted him.
He was subsequently dropped from the Miami Dolphins the next day and VH1 has decided to pull the plug on their reality show scheduled to air in September. In a statement released yesterday, Evelyn is taking a stand against domestic violence and encouraging her husband to seek the help he needs for his troubles. Later that day, we learned she filed for divorce. I find this ironic since Evelyn herself suffers from major anger management problems. I've never been a fan of the show Basketball Wives, but I've seen bits and pieces of it in which Evelyn throws a bottle at someone, jumps over a table, and curses like a sailor. This woman is always ready for a fight! So now, that you supposedly got knocked in the head, you want to take a stand that against domestic violence when you yourself have become violent.
I don't condone Domestic Violence at all, there is no reason for anyone to ever hit their partner. However, when I heard about this, I immediately thought of the scene from the movie "A Thin Line between Love & Hate" when that crazy chick (Lynn Whitfield) beat her own ass with a cabinet door and a sock with some hard object in it; she then called the police and said that the guy (Martin Lawrence) she was seeing did it. I like to look at situations from many perspectives and honestly if she thought that he would be faithful after you pretty much enabled him to cheat then she forgot the golden rule; you can't change anybody. This is what she said to him during an episode of Basketball Wives about him cheating
"I want you to be 100 with me. I'd rather know. Tell me. I wanna know. Go to the pharmacy and get condoms. I'mma be sick like a motherf–ker but what can I do but respect you and know that you're telling me the truth rather than hide it. Because at the end of the day you don't have to tell me nothing. I don't want to have to babysit you but I'd rather you be real with me because Lord knows what could happen."
Lady, you just told him it was OK to cheat as long as he was honest about it! You have now become an enabler. Now here's Chad response
"I'm still working to be the man you want me to be."
Quotes courtesy of globalgrind.com
Why marry someone who's still working on being the man for you. You told him to go get condoms, so he did exactly what you said!
This stands as a firm reminder that you should never marry or enter into a relationship with someone who cannot give you what you need. As a person in PR, I can tell you that this whole scenario sounds like a big publicity stunt on her part, especially with her releasing a book series. As for Chad, I'm not sure if he head butted her or not but a box of condoms just basically ruined your career. Who buys a box of condoms and not throw away the receipt…………men! In this case, I'm inclined to think she set him up, but I'm sure some will disagree.
Read more on the story here: http://www.bostonherald.com/track/inside_track/view.bg?articleid=1061153246&srvc=rss