And the news just keeps coming…
This in from the Lady Antebellum website! More BIG News for country music lovers! Wheels Up Tour 2015 set for Toronto, ON & Camrose, AB (BVJ already announced)
Lady Antebellum dropped by CBS' The Talk today to announce their headlining WHEELS UP 2015 TOURpresented by Quicken Loans. The band will kick things off on Feb. 28 with a European trek through Norway, Sweden, Ireland, Scotland, the UK and Australia and begin the North American leg on May 1 in Lubbock, TX. The tour will continue through the fall with triple-threat entertainer Hunter Hayes and red-hot newcomer Sam Hunt rounding out the electric lineup. Visit www.LadyAntebellum.com to join the mailing list and be the first to know about VIP ticket information as more dates are announced. 

"The magic of being with fans from all over the country is really why we're ultimately all here," said Lady A's Charles Kelley. "Being able to play off each other on that stage is honestly where we have the most fun, and I have a feeling the crowd will already be on their feet when we get out there after starting the night with Hunter and Sam!"

Last year, Lady Antebellum launched their 7FOR7 initiative where they fulfilled seven wishes for seven fans in seven days. Continuing with their unique campaign, the band has partnered with Detroit-based Quicken Loans, the nation's second largest mortgage lender, to pay the mortgages of seven families across the country for one year.

"Lady Antebellum has very devoted fans and we cannot wait to help several of them not only enjoy some great music through our sponsorship of this tour, but also enjoy a yearlong vacation from mortgage payments," said Jay Farner, President and Chief Marketing Officer for Quicken Loans.
The above was taken from the Lady Antebellum website another GREAT Line Up of artists coming to Ontario!
Corey Kelly / @CoreyKelly76
WHEELS UP 2015 TOUR DATES: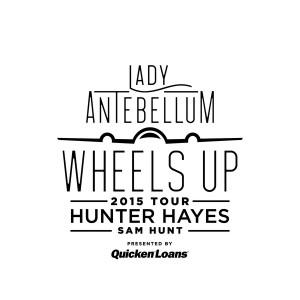 Wheels Up Tour
Oslo, NOR*
Stockholm, SWE*
Glasgow, SCT*
Dublin, IRL*
London, UK*
Ipswich, QLD*
Sydney, NSW*
Melbourne, VIC*
Lubbock, TX**
Dallas, TX
Houston, TX*
St. Louis, MO
Indianapolis, IN
Cincinnati, OH
Holmdel, NJ
Mansfield, MA
Saratoga Springs, NY
New York, NY
Bristow, VA
Toronto, ON
Detroit, MI**
Cleveland, OH
Sacramento, CA
Mountain View, CA
San Diego, CA
Los Angeles, CA**
Phoenix, AZ
Albuquerque, NM
Bentonville, AR**
Southaven, MS**
Atlanta, GA
Eau Claire, WI**
Omaha, NE**
Camrose, AB**
Charlotte, NC
Raleigh, NC
Virginia Beach, VA
Hershey, PA**
Hartford, CT
Tulsa, OK**
Kansas City, KS**
Chicago, IL
Birmingham, AL
Tampa, FL*
West Palm Beach, FL
Pittsburgh, PA
Philadelphia, PA
*Openers may vary
**Not part of Live Nation's Megaticket
Website – Lady Antebellum
Website – Live Nations