Today I share Wheat Rawa Adai from south region under regional category. Generally wheat rawa is known as broken wheat or daliya.

It is a good source of iron, magnesium, fiber and phosphorus. It's a very valuable and healthy meal for people who are concerned about heart and health both. Broken wheat can be stored in airtight jar in cool and dry place for future use.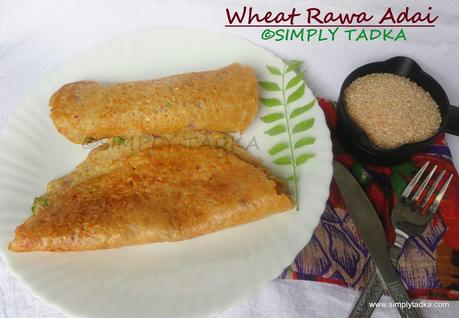 Commonly I used broken wheat to prepare boiled daliya, vegetable daliya, daliya upma, lapsi but adai or dosa is really very new to me. Personally I have less idea about South Indian flavors, so I adopt this recipe from Kamla's Corner. First I have little confusion about wheat rava, means wheat rava is daliya or semolina. But thanks to Kamla who tell me about wheat rawa is same as daliya or broken wheat. You can serve this adai recipe with green chutney or coconut chutney.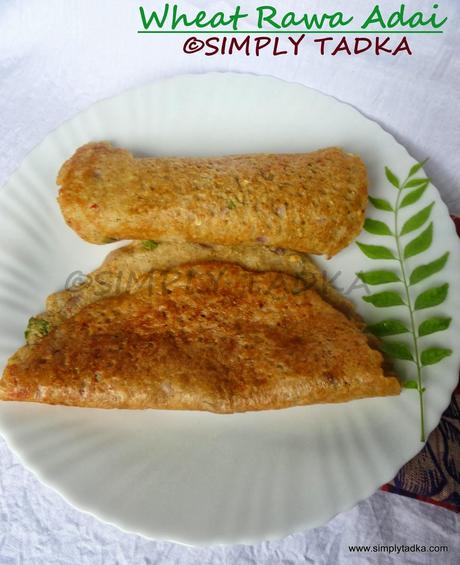 Preparation Time: 4 Hours
Cooking Time: 15-20 Minutes
Servings: 4 Adai
Category: South Cuisine
Recipe Source: Kamla's Corner
Ingredients:
1/2 Cup Broken wheat/ Wheat Rawa
1/4 Cup Red Split Gram/ Tuvar dal
1/2 Tbsp. Black Skinless Split Lentil/Urad dal
1 Tbsp. Green Gram/ Green Moong Dal
1 Tbsp. Bengal Gram/ Chana Dal
2 Whole Dried Red Chilies
Pinch of Asafoetida
Salt to Taste
1 Green Chili
1 Medium Onion, Chopped
5-6 Curry leaves
Oil for shallow fry
Instructions: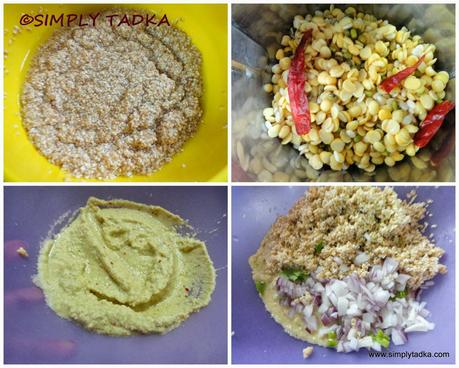 Wash and soak the lentils and grams for 3-4 hours in water.
Clean and soak the broken wheat or daliya for one hour in water. 
(Just cover the daliya with water)
Grind the soaked grams with enough water.
Place the batter in separate bowl and mix with broken wheat.
Add onion, green chili, curry leaves and salt. Mix well.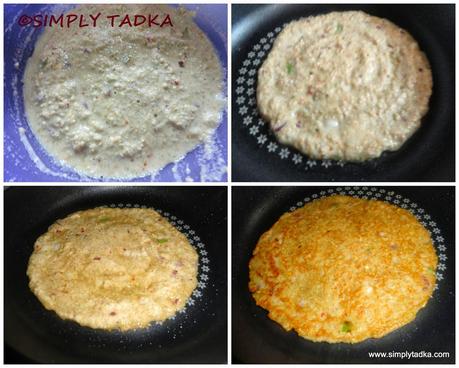 Grease the oil in non-stick pan or dosa tawa. 
Add spoonful batter and spread with ladle.
Cook the adai from both sides till to golden.
Serve hot wheat rawa adai with coconut dip. 
Check out the 
Blogging Marathon page for the other Blogging Marathoners doing BM# 32
Enter your email address:
Delivered by
FeedBurner