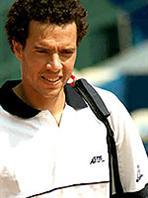 Comeback King
A hero in his native Morocco, Younes will forever be known for his marathon match in the US Open against Roddick, but he did put together a solid career winning 5 titles. He has great net skills and if not plagued by injury probably would have won a lot more in his stop-start career.
What are they doing now?: In 2010 at age 38, became the oldest player to win a main tour ATP match since 1995.
Career titles: 5
Win/Loss Record: 265/227
Career High Ranking: 14 (2003)
Finest moment:
Famous For: One of the longest matches in history, losing 21-19 in the fifth to Roddick. Has also been endowed with highest possible decoration from the King of Morocco.
Watch: The epic Roddick vs El Aynaoui match