Nick Kyrgios is quickly gaining the reputation as the new 'bad boy' of tennis following the Australian's turbulent Wimbledon tournament.
A lively outsider with betfair to win Wimbledon prior to the start of the tournament after beating Rafael Nadal last year, Kyrgios again showed he could be a contender when knocking out Milos Raonic. But his fourth-round performance against Richard Gasquet, who he beat 12 months ago, only led to more trouble for the 20-year-old.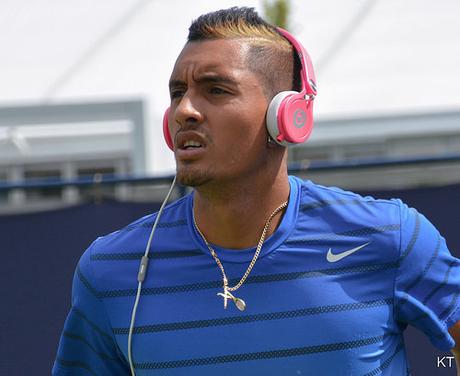 Image by by Carine06
Following accusations he 'tanked' a game in the second set against Gasquet, Kyrgios delivered a prickly performance at his post-match press conference and was then involved in a row with Australian Olympic great Dawn Fraser.
He has eclipsed compatriot Bernard Tomic as the current 'enfant terrible' in tennis after also rowing with an umpire in his first round win over Diego Schwartzman and then again during his defeat by Gasquet.
Yet, in comparison to years gone by, Kyrgios' outbursts and behavior are tame. They are perhaps more noteworthy because of the rarity of such tantrums and characters in the modern game.
With that in mind, it's the perfect chance to look back at arguably the three most notorious bad boys of tennis, who could teach the current generation a thing or two. And they were also pretty handy at playing tennis as well.
JIMMY CONNORS
Connors won eight Grand Slam singles titles during his career and also held the record of 160 consecutive weeks as world number one. Yet throughout his career, which included a run to the semi-finals of the US Open in 1991 at the age of 39, he was never far from controversy. He refused to join the Association of Tennis Professionals in 1972 and then, as part of the ongoing dispute, he sued its president Arthur Ashe, who Connors lost to in the Wimbledon final in 1975. He also failed to participate in the parade of former champions at Wimbledon in 1977. He was then booed by the Wimbledon crowd the following day. On the court, Connors was even more abrasive and his combative attitude to winning repeatedly took him over the edge. Obscene gestures towards officials were a feature of his game and he even incurred a 21-day suspension for one transgression.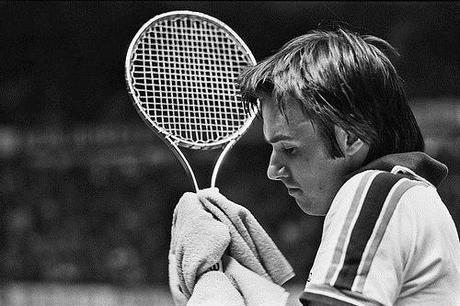 Image by University of Salford (Wikicommons)
His rivalry with John McEnroe was surely the most heated and tempestuous in the history of the men's game. It's hard to say whether there was even a grudging respect between the two players given how antagonistic their relationship was. Yet Connors was certainly capable of playing alongside other combustible characters in the sport as he won the doubles title at Wimbledon in 1973 and at the US Open two years later with Ilie Nastase.
JOHN MCENROE
The man who was nicknamed 'Superbrat' during his career, McEnroe has recently lamented the lack of bad boys in tennis and has even come up with some suggestions about how to make the game more exciting. As Connors himself has said, McEnroe was an almost mirror image of his fellow American in terms of his behavior on court and his determination and desire to win. His volatility on court cost McEnroe the chance to win the French Open title in 1984 when his frequent outbursts led to him losing a two-set lead over Ivan Lendl.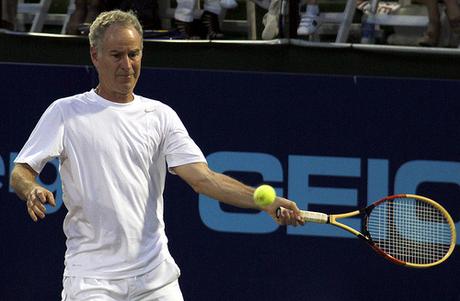 Image by dbking (Wikicommons)
That was by no means an isolated incident for a player who became renowned for using the phrase 'You cannot be serious' to question the calls of umpires and line officials. During his 1980 win over arch-rival Connors in the Wimbledon semi-finals, McEnroe had several rows with officials. This ensured he was booed by the crowd when he stepped out to play Bjorn Borg in the final. The following year, he was fined for rowing with the umpire and tournament referee. And, after calling the umpire a 'jerk' and then throwing his racquet away at a tournament in Stockholm in 1984, McEnroe was hit with a 21-day suspension.
ILIE NASTASE
With a nickname of the 'Bucharest Buffoon', it wouldn't be immediately obvious that Nastase was known for having a temper on the court. Of course, he could live up to his nickname with his entertaining manner on court as he always did his best to ensure both he and the spectators had fun. But that was only half the story of Nastase's character as he earned notoriety for his confrontational approach. There was one row with the antithesis of a tennis bad boy – Arthur Ashe – at a 1975 Masters tournament in Stockholm which ended with the two players being disqualified. Nastase also had constant run-ins with umpires as he questioned calls and also demanded to be shown respect by officials.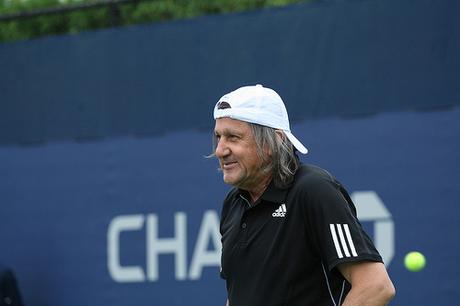 Image by robbiesaurus (Wikicommons)
His colourful on-court behavior was matched by the quality of his play as well. Just as Nastase could flit from being angry one moment to being the court jester the next, he could also mix up his game to bamboozle opponents. He now regularly turns up at Wimbledon wearing a military suit to give further luster to Nastase's reputation.