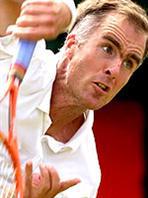 Big Head Todd and the Monsters
Big Todd made life difficult for all the top players and although his game never lit up the tour, he was a gentleman on and off court. Unlucky not to win a major, he ran into a couple of the best to have ever lifted a racket in Sampras and Agassi.
What are they doing now?: Coaching (briefly of Novak Djokovic) and playing on Senior's Tour
Career titles: 8
Win/Loss Record: 411/234
Career High Ranking: 4 (1999)
Finest moment: Martin was named the ATP's Most Improved Player in 1993, and won its Sportsmanship Award in 1993 and 1994.
Watch: Agassi vs. Martin US Open Final 1999