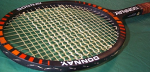 The Spaghetti Racquet
The story goes that it was the Spaghetti racquet that broke Guillermo Vilas ridiculous winning streak. The man on the end of this thing was Ilie Nastase. Vilas claimed it was cheating, most people agreed and it was banned. The racquet was double strung, which enabled 'excessive' spin on the ball.
Pray that Rafael Nadal never gets his hands on one of these!
Here's a clip of the famous Vilas-Nastase match in 1977: