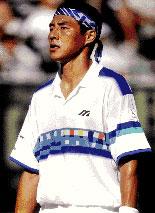 Shuzo left his mark on the game for many reasons. Without him there would be no Nishikori. Without him, players would still be getting disqualified for cramping. He has a big personality on and off-court and had an excellent grass court game, making the QF of Wimbledon 1995 and finishing runner-up at Queens in 1992.
What is he doing now?: Mentoring Kei Nishikori; Commentator and TV personality in Japan
Career titles: 1
Win/Loss Record: 145/163
Career High Ranking: 46 (1992)
Finest moment: Winning his only tour title in Seoul, becoming the first Japanese player to win an event beating Todd Woodbridge in the final.
Famous For: Being the reason the cramping rule was changed as he writhed in pain at the 1995 US Open against Korda. He would have been disqualified if he got medical attention. The dark days of on-court help.
Watch: vs. Sampras at Wimbledon