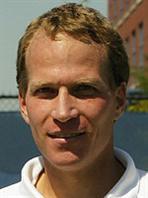 Richey Reneburg
Richey, known for creating nicknames for other players, was a first class doubles act with Jim Grabb.
What is he doing now?: Since 2000 has worked for Taconic Capital Advisors, a New York-based investment firm, doing marketing and client service work
Career titles: 3 (19 doubles)
Win/Loss Record: 207/263
Career High Ranking: 20 (1991)
Finest moment:
Famous For: Reaching Wimbledon final 1992 (w/Grabb), losing 19-17 in fifth set to J. McEnroe-Stich. It took two days and 83 games to complete the 5 hour, 1 minute match – the longest Wimbledon doubles match in history.
Watch: Interview with Richey