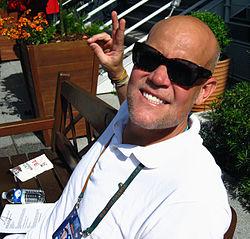 'Murph'
One half of the Jensen brothers with his brother Luke, the hair also went but much earlier for Murph. Always a character, he even went 'missing' during a Wimbledon one year inexplicably, but brought a lot of fans back to doubles in my opinion. More visible than his brother these days on TV with various assignments and cameos, he's good to have around the game still.
What are they doing now?: TV Presenter for Tennis Channel & 'coaching' World Team Tennis team the Washington Kastles
Doubles Career titles: 4
Doubles Win/Loss Record: 125/179
Doubles Career High Ranking: 17
Famous for: Clowning around but also bringing doubles back to life in the early 90s with brother Luke.
Finest moment: 1993 French Open Doubles Champion!

Watch: French Open 1993