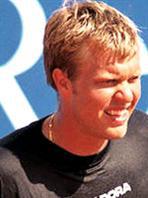 Magnus Larsson
This big swede brought a big game and hit pay dirt in 1994 with his win in the lucrative Grand Slam Cup. He had a handy Davis Cup record too ending up 12-4 in singles.
What are they doing now?: Has played in the senior Outback Champions Series, winning the Stanford Championships in 2006.
Career titles: 7
Win/Loss Record: 310/221
Career High Ranking: 10 (1995)
Finest moment: Winning the Grand Slam Cup in 1994, defeating World No. 1 Pete Sampras in the final in four sets 7–6, 4–6, 7–6, 6–4.

Watch: vs. Sampras