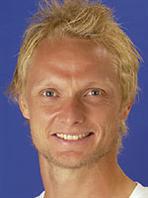 Kenneth Carlsen
Pretty much the best Danish player of a generation, with few players from Denmark following in his footsteps, Kenneth was a fast-court specialist making 6 finals and wining 2.
What is he doing now?: No Idea
Career titles: 3
Win/Loss Record: 266/288
Career High Ranking: 41 (1993)
Finest moment: Winning his first title in Japan beating Magnus Norman
Famous For: He played a total of 46 Grand Slam events during his career, and he holds the record for most first-round exits, 30.
Watch: vs. Kafelnikov