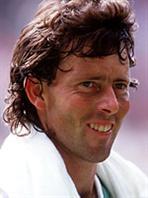 Got Seoul
Pre-Henman and Rusedski, Bates was British tennis. Dark days indeed!
Props to Jez for carrying the torch for so long though. An unremarkable singles career burdened with pressure from a whole nation, he excelled in doubles and mixed, where he could spread the load.
His mixed doubles partnership with Jo Durie was Grand Slam quality, winning titles at Wimbledon and Australia. He also was runner up with Peter Lundgren  at the 1988 Aussie Open. People don't remember doubles wins sadly, so he will forever be burned in the collective memory, for painful 4th round losses to Guy Forget at Wimbledon, twice.
At 31, he crowned off his career with his first and only singles title in Seoul in 1994.
What is he doing now?: Former Davis Cup captain; Director of Tennis, Sutton Junior Tennis Centre
Career titles: 1
Win/Loss Record: 132 / 193
Career High Ranking: 54
Finest moment: Winning his lone singles title in Seoul at 31
Famous For: Winning 2 Grand Slam mixed doubles crowns with Jo Durie
Watch: One to (Guy) Forget
Advertisement