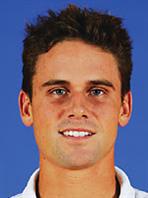 Jan-Michael Gambill
With his two-handed forehand, Jan won Delray Beach twice and always had the chops to beat big name players including former World No. 1 players Roger Federer, Carlos Moyá, Lleyton Hewitt, Pete Sampras, and Andre Agassi. That looks pretty good on the resume if you ask me.
What are they doing now?: Currently a member of the tennis staff at the Coto de Caza Golf & Tennis club in Southern California and playing for the Boston Lobsters in the World Team Tennis league.
Career titles: 3
Win/Loss Record: 201/196
Career High Ranking: 14 (2001)
Finest Moment: SF run at Indian Wells, where he beat Philippoussis, Courier and Agassi to crack Top 100 for first time.
Famous For: In People Magazine, was selected as one of "50 Most Beautiful People in the World" 2000.
Watch: Gambill steam-rollering Moya