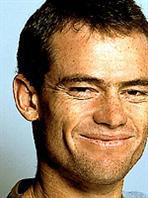 Byron Black
Zimbabwean Bryon, comes from a tennis clan with his brother Wayne and sister Cara also accomplished pro-tour players. He was an unorthodox player, using a 2-handed forehand and backhand and as I remember had more tics than an Alabama swamp .
What is he doing now?:
Career titles: 2
Win/Loss Record: 257/246
Career High Ranking: 22 (1996)
Finest moment: Became world no. 1 in doubles in February 1994. He won the 1994 French Open partnering Jonathan Stark.
Famous For: Being 1 of only 4 players to ever take a 6-0 set off Federer at a Grand Slam.
Watch: Byron take on Sampras at Wimbledon