Andrei Cherkasov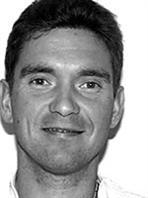 Cherkasov claimed back-to-back Kremlin cup titles in 1990 and 1991, which is pretty impressive, but he never topped that thereafter.
What is he doing now?: Living in Monte Carlo
Career titles: 2/4
Win/Loss Record: 193/214
Career High Ranking: 13 (1991)
Finest moment: Back-to-back Kremlin cup titles in 1990 and 1991
Famous For: Saving three match points in 3-hour, 54-minute quarter-final victory over Italy's Andrea Gaudenzi at Tel Aviv, to win 6–7, 7–6, 7–5 in the longest best-of-three set match in tour history.

Watch: vs. Sampras French Open 1993

Andrei Cheskonov

Chesnokov put together a solid career. His best surface was clay and made a semi-final run in 1989, but his size enabled him to have an all-court game including a win against Korda for a Montreal Masters Series title. He was also a tough Davis Cup player for Russia tangling with Stich and Sampras in memorable ties, but not as tough as taking 2 bullets in a restaurant fight!
What is he doing now?: Currently coaching Elena Vesnina.
Career titles: 7
Win/Loss Record: 344/259
Career High Ranking: 9 (1991)
Finest moment: 1995 in the semi-final of the  Davis Cup against Germany. In the fifth set of the final deciding match of the semi-final, playing against Michael Stich, Chesnokov saved nine match points before emerging the winner, the final score being: 6-4, 1-6, 1-6, 6-3, 14-12. The next day President of Russia Boris Yeltsin awarded Chesnokov with Order of Courage.
Famous For: In 2005, during a visit to the Ukraine, he was shot twice with rubber bullets after a quarrel in a restaurant with two unidentified men.
Head-to-head? Chesnokov led 3-1