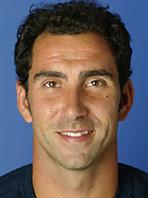 I won the French, remember?
Albert Costa, not to be confused with and no relation to Carlos Costa won the French Open, but for some reason it's easy to forget that fact. I suppose it's because he didn't win another Slam and was an out and out grinder, but he was a hell of a player with a super one-handed backhand, destroying Ferrero in the 2002 final. He went on to captain the Spanish Davis Cup team and is still active in the game on a coaching level.
What is he doing now?: Coaching Feliciano Lopez
Career titles: 12
Win/Loss Record: 385/273
Career High Ranking: 6 (2002)
Finest moment: Winning the French Open in 2002
Famous For: Winning four 5-set matches in the 2004 French Open en route to the semi-final.

Watch: vs. Rios at the French