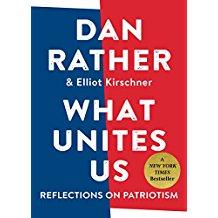 These are troubled times. My two co-workers and I were just taking a time out from political stress today. It seems so many people in the U.S.A. are dazzled by Tweets and a slick marketing campaign. There are even Latinos for Trump after all of the horrible things The Donald said about Mexicans during his campaign. What is happening to our values?
Dan Rather's What Unites Us brings us back to the basic principles upon which the U.S.A. was founded. He kicks off his book with a preface titled Night Flights which recalls his journalistic career. He paints a good word picture.  Rather wrote a series of essays that remind me of building blocks: Freedom - the vote, dissent, the press; Community - inclusion, empathy, immigration; Exploration - science, books, the arts; Responsibility - the environment, public education, service; Character - audacity, steady, courage.
The Amazon link: Kindle version of What Unites Us
For Dan Rather's website, News and Guts - Click here: https://www.newsandguts.com/
Dan Rather has a lot of guts and I admire him for it.