It is no surprise that Maldives is really one of the most picturesque destination that you can go on a vacation to which is why it is among the bucket list of many travellers. If you are also someone who is planning a vacation to Maldives or are thinking of planning a trip to Maldives, then we must tell you that you are in for spending some great time on the serene beaches, admiring the picturesque islands and taking full advantage of the amazing summer outfits.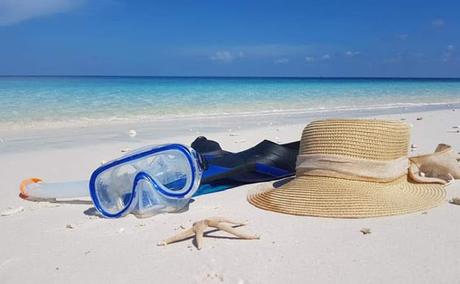 No matter whether you are planning an adventurous or a relaxing trip, there are always some essential things that you must carry to a place. But often in the hurry of packing, we tend to forget one or the other out of these important things. If you are also wondering '
what to prepare for Maldives trip'
, then worry no more because we have listed down some of the most important stuff, packing which will keep all your stress sorted. Continue reading!
1. Sunscreen
Since, Maldives is a tropical destination, it is quite natural for you to be exposed to sun rays all the time you spend on the islands. So, unless you wish to spend all your time locked up in the hotel room, it is better to have a handy good quality sunscreen which will protect you when you are lounging on the sunbeds or when you are trying that adventurous water sport. Make sure that your sunscreen is water resistant.
2. Conservative dresses
Maldives is a majorly Islamic country, where it is quite essential for the women to dress conservatively and to wear a burka or a headscarf. So, respecting their culture, it is important for you to carry clothes which are not too much skin revealing or skimpy. Carry a large scarf which can be worn over your shoulders and clothes like loose trousers, long skirts, dresses, etc. This decorum is mainly to be maintained around the airport, in small villages and in Male. Once you are in your resort or private island, you need not worry much about your clothes.  
3. Underwater camera
If you are going on a vacation to The Maldives, it is quite obvious that you would want to do a lot of swimming, scuba diving, surfing and other exciting water sports. But wouldn't the fun be incomplete if you couldn't capture those thrilling and amazing moments on your camera and save them as your precious memories. It would be a real shame to the clear waters and rich marine life of Maldives, if you didn't capture them. So, it is highly recommended that you keep a reliable waterproof camera in your
checklist for Maldives
. There are many budget friendly options available too and even if you invest a bit amount now, the memories from Maldives will make all your efforts worth it.
4. Comfortable footwear
Being in the island paradise, you could be spending loads of time barefoot in the sparkling blanket of sand on beaches. So, it is better that instead of those fashionable pair of heels, you pack a casual pair of sandals and comfortable flip flops. Also, pack a pair of dive shoes since they provide a lot of comfort while doing water activities like snorkelling, diving and swimming.
5. Appropriate swimwear
Once in Maldives, you are going to spend majority of your time on beaches. So, it is important that you pack multiple pairs of swimsuits with you. If you are someone who loves uploading dozens of pictures on social media or just love taking photos, then for getting the best shots with the sea background, it is best that you carry bright coloured or tropical printed swimsuits or bikinis with you. For men, a couple of pairs of swim trunks and shorts would be enough.
6. Dry Bag
No matter whether you are spend a relaxing day at beach, are going for an exciting boat trip, trying your hand at snorkelling or for that matter any other thrilling water activity, as long as you carry a dry bag along with you, it will be quite convenient for you to keep your essential and valuable items safe. So, make sure to buy a reliable and waterproof dry bag with you before going on a Maldives trip. There are many inexpensive options available in the market.
7. Sun Glasses
Packing a pair of great sunglasses is a must especially for all those people who have really sensitive eyes or get itchy eyes under direct sunlight. Having a handy pair of sun glasses will keep your eyes protected from the harsh UV rays and allow you to relax on the beaches comfortably even under the sun. You can also go in for over-sized sunglasses too.
8. Minimum Make – up
When on a vacation, all of us wish to dress up, doll up and create a lot of amazing pictures. But if you are traveling to Maldives, you must know that it has quite a humid climate most of the time. So, in all that humidity, there is really no point in spending hours caking up your face with make up when all of it will turn into vain with a bit of moisture and sweat in a while. So, it is recommended that you carry just the essential make - up tools like mascara, blusher, eyeliner, kajal and lipstick. Make sure to keep them to a minimum for the best experience.
We hope that these few tips on what you should pack for your Maldives vacation, will help you in packing. So, now that majority of your packing stress is ruled out, wait no more and book one of the
Maldives holiday packages
 to have the best time of your life in the picturesque island paradise!