Having remained one of the most popular tourist destinations in the South-East Asia, Bali continues to engross tourists from all over the globe. Welcoming you with the oil and incense fragrance, Bali has it all starting from volcanic peaks to giant waves to waterfalls and much more. What adds to that is shopping, lush greenery and and spa. Here are 10 budget destinations that you should definitely visit during your trip to Bali:
1.

  
Mount Batur:
If you have always craved for watching sunrise at misty mountains, this is the best destination to be at. The 1700 meter mountain also has easy trails in case you are interested in hiking. Mount Batur is also known for being a sacred volcanoes that are still active. You can expect spectacular views of the Lake Batur on a clear day. This lake is the prime source of irrigation water in the island.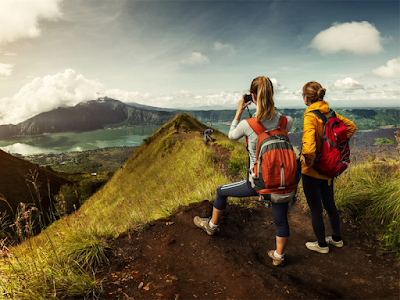 2.

  
Uluwatu Temple:
Located about 25 kilometers away from Kuta, the Uluwatu temple is at the lap of a magnificent cliff. You should definitely visit the temple during the sunset to see the sky and sun glowing together. The temple is believed to exist from 10th century and protect Bali from the evil spirits of the sea. Don't miss the scenic beauty on your way from the entrance to the temple.
3.

  
Ubud Monkey Forest:
Better known as the Sacred Monkey Forest Sanctuary, this forest is the best spot for animal-lovers. As you walk on the paved pathways that will take you through the forest, you will be able to see statues, temples, banyan trees, and so on. Leaving you with a mystical feeling, this temple is said to be the representation of harmony between animals and humans.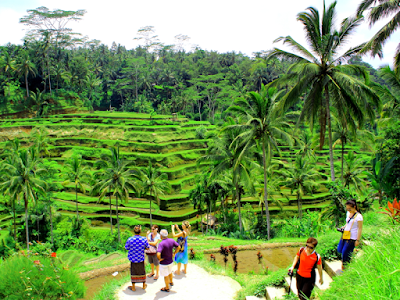 4.

  
Rice Terraces:
Whether you love taking photographs or whether you simply want to enjoy lush greenery, the rice terraces in Bali are something that you must not miss. The Jatiluwih rice terrace is the best spot in this case. Situated at the lap of the Batukaru range, these rice fields bring you absolute bliss. You will also be able to see the UNESCO recognized irrigation system named Subak here.
[ 10 photography hot places in Bali indonesia ]
5.

  
Waterbom Bali:
Care for an action-packed day? Waterbom has got your back. Being one of the cheap places in Bali, Waterbom is ideal for those who love adrenaline rush. This waterpark has embellished itself with a number of water activities, slides, rides and so on. In addition, you can also rejuvenate yourself with the famous fish spa here. The tropical garden here and delicious foods will certainly make your day.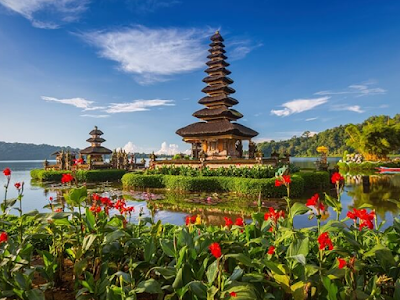 6.

  
Pura Ulun Danu Bratan:
This picturesque temple complex is located against the backdrop of Gunung Bratan in Bali. Dedicated to the Dewi Danu, this temple adorns itself with Buddhist Stupa along with different Buddha figures. Consider visiting this temple in the morning for the best experience.
7.

  
Kuta Beach:
Most of the 
Bali Holiday Packages Smart Holiday Shop
will certainly take you to the Kuta Beach. Don't be bothered by the hawkers who persistently keep roaming on the beach. Ignore the crowd too. Instead try to enjoy natural beauty here or get your surfing skills perfect. You can also visit the adjacent Legian and Seminyak beaches. A number of restaurants are here which will definitely meet your expectations.
8.

  
The Nusa Islands:
The Nusa Islands is perfect for those who don't like surrounded by the crowd all the time. Nusa consists of three islands i.e. Nusa Lembongan, Nusa Ceningan and Nusa Penida. If you have been looking forward to snorkeling or kayaking, this is time to get those wishes fulfilled. You should also consider visiting the local attractions including Dream Beach, Devil's Treks and soon.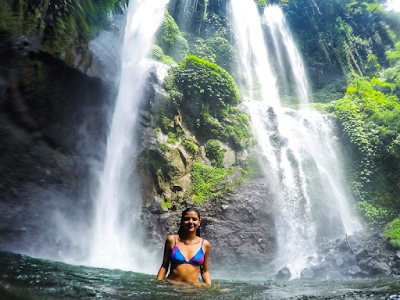 9.

  
Sekumpul Waterfall:
Any budget holiday destination in bali must have Sekumpul waterfall in it. Being one of the picturesque falls that you will come across in Bali, this one allows you go on a hike. If you choose to hike, you will be able to experience the beauty of rice terraces and local villages. In addition, you can also go for a swim at the end of the trek. This adventurous spot is must spot for those love adrenaline rush.
10.

  
Tirta Empul Temple:
Located amidst lush greenery, this temple is a natural heritage site. The best part here is the large pool inside which is said to contain healing waters that come from mountain spring. While visiting the temple, you must be careful enough to adhere to the rituals here and respect the customs as well.
[ Suggested Read - Free Things to Do in Kuta Bali indonesia in December ] 
Stay
Selecting which beach to stay by is perhaps the most difficult decision you will take during your trip to bali. Well, you can definitely look for some hotels at the Seminyak beach area which is known for having some of the most luxury villas and resorts. Some of the prominent hotels here include The Haven Bali Seminyak, Alila Seminyak and so on. If you prefer lush greenery instead of sea beaches, you should definitely stay in Ubud. Hotels like Kamandalu Resort or Komaneka at Bisma guarantee modern amenities and a comfortable stay. If you rather stay on budget and surfing mecca doesn't bother you, Kuta Beach is the perfect destination for you. You can stay at the Kana or Amnaya Resort in Kuta.
Eat
If you prefer a rather sophisticated place to have lunch or dinner, here are some of the restaurants that you must try. For some exotic Mediterranean and European food with scenic views of the river, you must visit the Kubu Restaurant is located in close proximity from downtown Ubud. The Kayuputi restaurant in Nusa Dua lets you experience fine dining with some of the best wines. During your stay in Bali, you must try the Sate which is basically the grilled meat served with spicy sauces. Shall you decide to try some of the Balinese delicacies, you should totally go for the Nasi Ayam and Nasi Campur. Another dish that you must try is the Babi Guling which is the roasted pig stuffed with spices and vegetables.
Shop
Whether you are looking for local shopping markets or shopping streets, Bali has it all. The Jalan Pantai Kuta lets you explore some of the best souvenir shops along with local boutiques. The Jalan Raya Ubud is popular for fashion boutiques, antique galleries and so on. The Garlic Lane makes it easier for you to find the best items in art galleries, boutiques etc. Shall you care for some fresh market, you must visit the Candi Kuning Market, Taman Sari Market and soon.