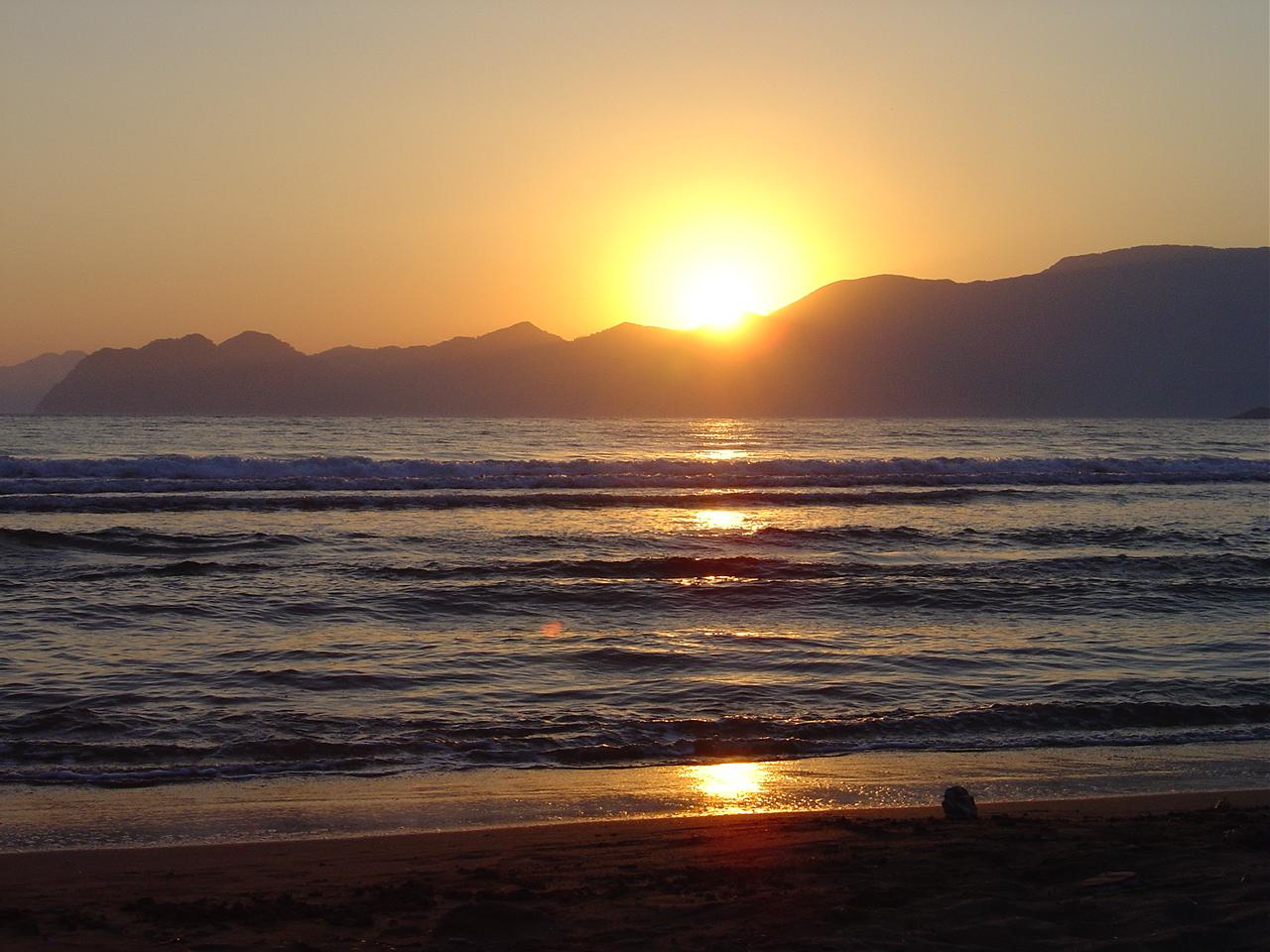 Hisaronu, situated in the Dalaman region of Turkey, is a tourist destination that is becoming more and more popular year upon year. Travellers come from around the world to sample a bit of the Turkish culture in a relaxing setting where they can soak up some of the sun's rays. Most people use the opportunity to top up their tan and spend their week lounging in the sun, but if you're not one of these people and would prefer to get out and see what there is to do in and around Hisaronu, here are a few tips.  (Photo "Sunset in Dalaman, Turkey" by crowpilot)
The town of Hisaronu itself doesn't have much to do for the active tourist, aside from the few tacky shops that line the streets and the thriving nightlife. The accommodation there, such as the Telmessos Hotel, is always of a high standard and very well located for exploring the rest of the region. If you're looking to find a town that has more of the Turkish culture, hop on board a dolmus down to the harbor town of Fethiye. Here you'll find an old town that's brimming with bustling little shops and interesting architecture. Take a walk along the harbor front from there to relax a little, and make sure to stop off at the Lycian rock tomb of Amyntas and the amphitheater.
If you've spent a bit of time around the pool at Hisaronu, you're bound to have seen the paragliders flying above you. If you're feeling a bit more adventurous, this is something that you won't want to miss out on. You can organize this within your hotel or at one of the shops in the town. You will be taken up to the top of Babadag mountain, provided with all the correct gear and given a run down of how it will work, then you'll find yourself soaring over the pine covered mountains and blue ocean to land on the beach at Olu Deniz.
Many hotels in Hisaronu, as well as those in the surrounding areas of Olu Deniz, will offer you one of the most traditional experiences you can have in Turkey, a Turkish bath. Again, this can be booked through your hotel, and this is probably the best way to go about it as they will direct you to the best and most reliable place. When you arrive, you'll spend around 10 minutes relaxing in a steam room, before heading into the bathing room where you'll lie on a heated marble slab and enjoy a wash down with gently foaming soap by qualified men. They usually finish off with a quiet, relaxing massage using essential oils in a private room. This is a great way to start or end your holiday, and apparently makes your tan last even longer.