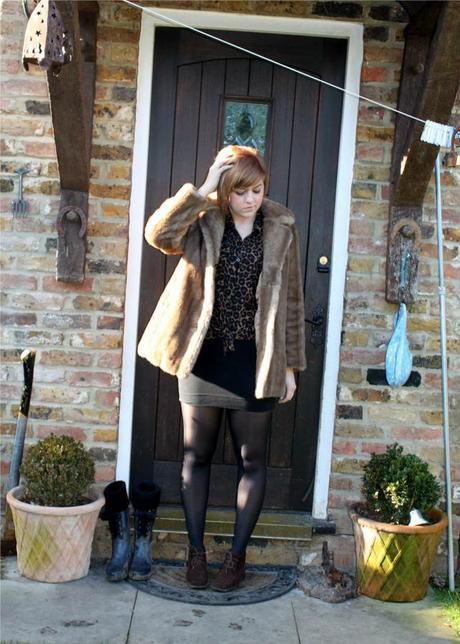 What I'm wearing:
Fur coat: Charity shop
Leopard print shirt: Motel
Bodycon skirt: H&M
Desert boots: Clarks via charity shop
I've found it so hard lately to take pictures, so when my sister popped round the other day I seized the chance to get her to take some pictures for me. Apparently, my sister is good at many things, but taking a picture is not one of them. 37 pictures later and this one was the only one I deemed semi-decent to publish. She's lucky I love her! Haha.
I got this Motel shirt for Christmas. Blogs are good at taking up all your time and causing you to want to spend money, but they are also a great way for a snooping boyfriend to get an idea of want you want, so after seeing this post he brought me this shirt and also these jeans, which unfortunately don't fit, and he ordered them way before Christmas so it was past the exchange period. Boo! On eBay they shall go! Anyway back to the shirt - basically I love it, most of the time. Its such a versatile piece that goes with everything from jeans to body con skirts and everything in between. My only gripe with it, is that it needs to be ironed, all the time. The strip where the buttons are rolls up like you've wrung it dry, so if not ironed, it looks like all your buttons are gaping, not a good look. I just hate ironing SO much.
I actually wore this the other day, and currently waiting for Mister to come round on his lunch to take photos of today's outfits. I bribe him with bacon sandwiches so its a win-win situation! Anyway, I'm going to go drink tea and what the rest of This Morning, got so much to tell you all, so stay tuned!
P.S. Thank you to all the new followers :) come say hi!

"believe in yourself"