Question: What's been around since the 70s but no one knows about, understands or often cares about?
Answer: World Team Tennis of course!
Ok, so a little harsh. I actually quite like it, but boy has it taken me while to take to it. In a nutshell, it's a semi-competition for retired pros, challenger level players and older legends devised originally by Billie Jean King. The spin is alterations to the scoring, coaching and even courts themselves.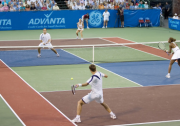 Dig the Multi-Colored court
So how does it work?
Well, it operates under the notion that tennis is too boring to the casual spectator and it needs lots of distractions and fun.
[Taken from Wikipedia:] A match consisted of the first player or team to win five games, with a nine point tiebreaker at four all, and no-ad scoring in: women's singles and doubles, men's singles and doubles, and mixed doubles. This made WTT the first professional sports league to give equal weight to each man and woman competing for their teams.
So that's how it works, got it? Right.
As a fan, it's hard for me to be objective sometimes, but when you think about the single-minded determination and 'all business' approach to pro tennis, you can start to see the appeal. In cricket by way of example, a reaction to the 5-day test matches that could end up in a draw, yes a draw America, was the invention of 20/20 cricket. This is basically like Rounders or Softball disguised as cricket.
Anyway, the plus side to WTT, is you can see some pretty legendary players fool around for a night or 2 on a multi-colored court. Some of the players to grace the competition (probably for a decent appearance fee) have been: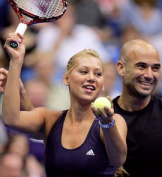 Just a bit of fun
Billie Jean King, Rod Laver, Björn Borg, Chris Evert, John McEnroe, Evonne Goolagong, Jimmy Connors, Martina Navratilova, Andre Agassi, Pete Sampras, Michael Chang, Jan Michael Gambill, Bobby Reynolds, Venus Williams, Serena Williams, Maria Sharapova, Lindsay Davenport, and Kim Clijsters.
They have all played for various teams including the US cities of Boston, New York, Philly, Kansas and bizarrely 2 teams form Missouri. That's just it about WTT, nothing really makes any sense, but it's a party so why should anyone care?
I think of it as a decent way to catch some US players, often challenger or futures level coming up or going down. You know a player is in trouble when you see his or her name in the doubles roster in WTT – see Scoville Jenkins or Mashona Washington. In other cases, players can get some confidence by whupping an older players ass who happens to be a legend.
You could say it's the Elephant's Graveyard of retired tennis players after the Champion's Tour but I'm taking to it, slowly.