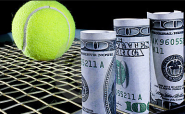 You Better, You Better, You Bet!
It's the issue that doesn't seem to go away. Irregular betting patterns on matches has probably been going on since the game's conception. Nowadays of course, more people can bet on tennis offline and particularly online. This has brought an added incentive for shady characters to get influence players in the lower professional ranks, but not exclusively.
The ATP's Anti-Corruption Program, was established in 2003 in order to prohibit wagering on any form of tennis, but there have been some higher profile names entangled in betting scandals including Nikolay Davydenko who has never really washed the dirt off him, in a match against Martin Vassallo Arguello. In August 2007 at the Poland Open in Sopot, unusually large amounts were wagered on the lowly ranked Argentine throughout the match, even after he lost the first set 6-1.
Bad Business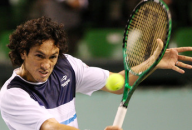 Martin Vassallo Arguello.
Vassallo Arguello was also involved in another match-fixing scandal after a first-round match in Monte Carlo against Igor Andreev, who at 5-4, 40-0, Andreev had three match points on serve but Vassallo Arguello came back to force a second-set tiebreak, where Andreev threw in two double faults to eventually drop the match.
Richard Bloomfield, ranked 552 in the world at the time, found himself at the center of irregular betting patterns against Christophe Rochus at the Hall of Fame Championships in Newport. Over £1million was traded on the Bloomfield v Rochus match, and  the British player was backed at non-sensical odds of 1/4 (1.25). Interestingly, Rochus retired from the game shortly afterwards.
In 2011, Serbian tennis player David Savic became the second player to receive a life ban for attempting to fix matches after Austrian nut job Daniel Koellerer, was the first player to be banned for life over match-fixing the same year. 2011 continued to be busy, with Swedish tennis player Lucas Renard suspended for six months and fined US$5,000 after admitting to an offense under Article D of the 2011 Uniform Tennis Anti-Corruption Program.
The Italian Job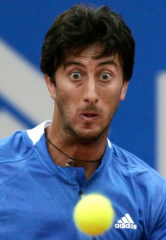 This ball just cost me $60k!
Italian Alessio di Mauro, was suspended for nine months and fined $60,000 for betting on tennis matches,  having made 120 bets with an online bookmaker from Nov. 2, 2006 to June 12, 2007. Other Italians Potito Starace and Daniele Bracciali made bets as little as $7 – on tennis matches involving other players, with many people saying they have been made scapegoats. Starace, ranked 31st at the time, was suspended for six weeks and fined $30,000. Bracciali, ranked 258th, was banned for three months and fined $20,000.
Giorgio Galimberti then became the fourth Italian player to be banned for betting on tennis matches by the ATP's Anti-Corruption Program. The 31-year-old was found guilty of wagering on the outcome of matches from June 2003 to January 2006 and was banned for 100 days and fined $35,000.
Part of the Game?
Whether the fines, bans or public shaming have an effect long term, the ATP have to live with the possibilities of this happening and rely on the ethics of the players to do the right thing. The question of prize money in tennis takes on a more 3-dimensional shape, when equated to the kind of living lower-ranked players make.
The struggling journeymen earning a living in the underbelly of the tour, are the most susceptible to shady characters and this is where we should be looking.