I have always been an admirer of Banana Republic clothing. The fit, the fabric, the style and above all  the price is always on point and without a doubt: it all resonates with my personal style.
It's like a ritual for me to stop by the BR store whenever I am at the mall or in the vicinity of a store. It's like paying homage to BR for being so good to me and wallet too....whomp whomp ! Not only for the clothing, the periodical sales is also what keeps me wandering around the store. 
So last week I stopped by a local BR store to scour through their new arrivals and it just occurred to me- wouldn't it be fun to give you leads on the key pieces ( almost like a live streaming ) and show you what I as a blogger has to go through to pick out one piece from all the options? What do you say ??? So let's get started.
So the new collection is floral, fun and flirty in its entirety. It came through with lots of feminine details like lace, ruffles, peplums and eyelet. I tried on a few and this is what I felt :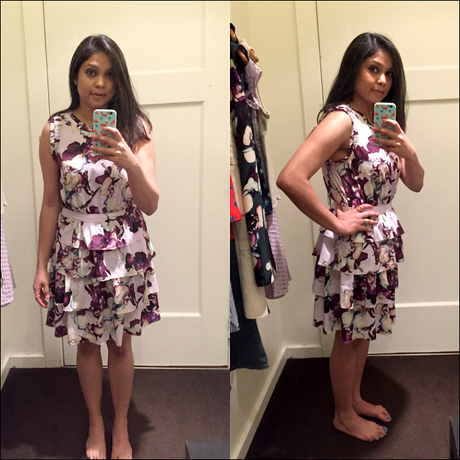 This purple flirty number screams spring in all respect. It is sleeveless, has a ruffled arm hole and a tiered silhouette. This dress is so reminiscent of the cherry blossom festival coming up. The top part of this dress fits on the looser side, it is not body-hugging: a total win-win for all the top-heavy ladies. The dress would look great on most body types, coz the ruffles are soft, which don't bulk at all. For reference I am wearing a size 6. I tried on a size 8 and it fits okay too.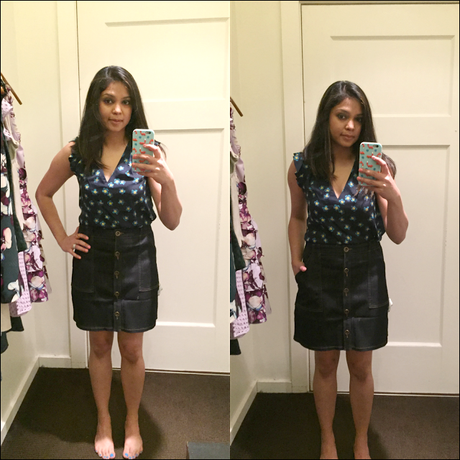 This poppy flower sleeveless top is lightweight, unlined and has a soft peplum hem. It has ruffled arm-holes too and comes in a plain white option as well. I am wearing a size S. It had my name written all over it and I almost bought this top but as I waited in the checkout line, I felt disconnected and it stayed at the store. 
The  denim A-line skirt, the hottest skirt trend for the spring, is soft and stretchy: a lot of it! I tried on a size 2 & 4 and could live with both: there was so much stretch. But honestly I did not like how it fitted my pancake-butt, so I just let it go.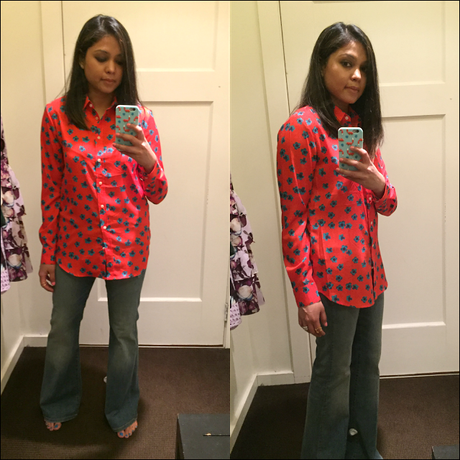 A full sleeve option of the poppy print sleeveless top, this blouse is redder than it appears here. A color worth-trying: I  so wanted the top to work, but there was something that kept me disengaged. Possibly the fact that I own a lot of BR silk blouses, came in my way of buying this one.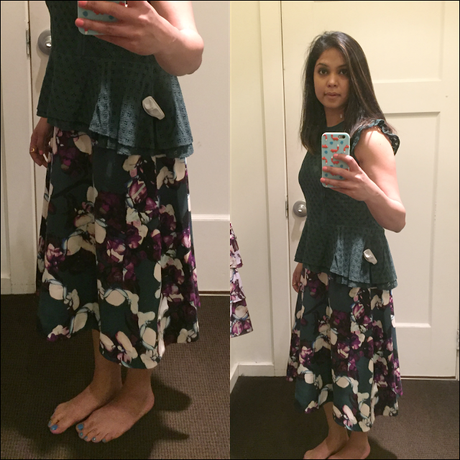 Next comes this floral lace peplum top. It is well-fitted, structured and fits true to size. For reference I am wearing a size S. It comes in two other colors- white and blush. The white was cute and I am sure I own something similar, so I passed. The blush is more violet and could be a tricky color to pull off. Now this green felt a bit too holiday-ish, but for those who love earthy tones, this top will definitely get a lot of wear this spring. I paired this top with my jeans and this BR skirt as well- review coming up next.
Now this skirt ( holy grail )  has been all over the web. A replica in print of the first dress, this skirt is a must-have in every spring closet. It fits true to size and has hidden side zipper. I tried on a 6 and it fits to a T.  Unfortunately, paying $128 for an unlined silk skirt wasn't happening for me, so this one stayed in the store as well.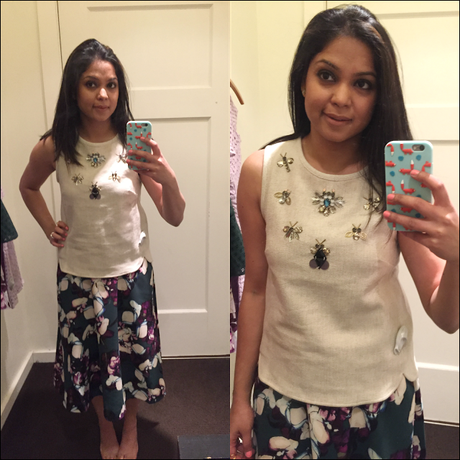 Talk to me about this embellished front linen tank.  I am a huge fan of linen and this one with the cute embellishment takes a basic tank up a notch. It is much cuter in person and fits true to size- I tried on a size S. But if you are looking to layer it over other tops, I would recommend sizing-up coz there is zero stretch. Since I didn't want to pay full price for a tank, I'd rather wait for it to get marked down.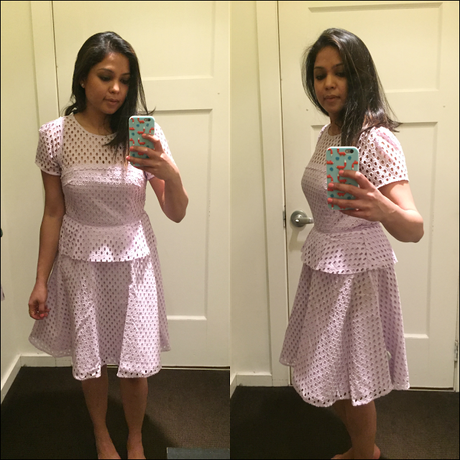 This peplum dress in lilac is adorbs, super-feminine and in one of the coolest eyelet pattern. The peplum detail by the waist definitely hides my paunch- whomp whomp ! Since this dress had no stretch a size 6 was hard to zip up, sizing up would just make the lower half look frumpy. So despite all the prettiness, I had to let got this dress.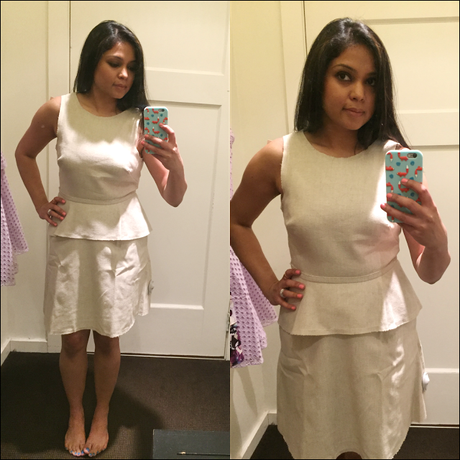 This dress twins the lilac dress above in the pattern department, except that it is a linen fabric. No offense to anyone who loves this dress, but the darts around the bust were really distracting. It sticks out in a very awful way, so in less that five secs this dress was back on the hangar. 
So after spending half and hour in the fitting room, frolicking and clicking pictures, I came home with just one dress...any guesses ???? Stay tuned to find that out !!!!!
SHOP ALL THE ABOVE PIECES  Have a great day loves, for more of my musings follow me @