When I shifted to Dubai, never in my wildest dreams I imagined of having my own blog – food blog to top it! My mind pictured myself traveling through public transports, walking carefully on the busy polished streets, juggling a professional life and all that. But in reality it is very different from what I thought it would be. After having a baby, all what I did when Little A slept was experimenting like crazy in my small dainty kitchen and posting those food photos on facebook. It took me more than a year after a friend of mine sitting across a table in a tiny lebanese joint in Bandra (suburb in Bombay) urged me to start my own blog. I dismissed the idea then and there. It wasn't the best lebanese food I had, of course, but his words from that conversation kept ringing a bell every time I donned a chef's cap in my pantry.
You wouldn't often find me terrified of challenges especially when it comes to cooking because I want to explore different varieties of cuisines which my family and friends can enjoy. So far I have mostly limited myself to baking but I am sure of coming out of my comfort level when it comes to main dishes in days to come. I am a happy girl right now. Like they show in fairy tales!
Soon after I started posting more of food related posts on this blog, I joined Baking Partner's secret group on Facebook and was very excited about taking up new baking challenges that they host every month. Yes every month! As soon as I got an email from Swathi of Zesty South Indian Kitchen, I was dancing with joy. May month's challenge included Lemon Bars and Chocolate Walnut Bars suggested by Suja of Kitchen corner try it. Since lemon bars was something I wanted to try from a long time, I gave a heads up to that! These bars aren't regular lemon squares that will make you want to lick your fingers but will beg you to be snatched up from the plates and savored alongside some great salad. The tanginess does the trick, guys!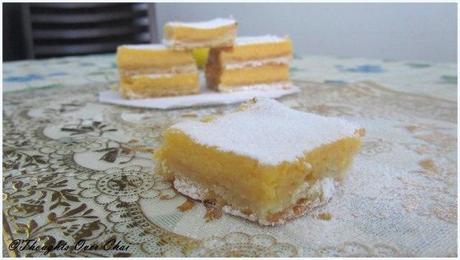 Recipe for Lemon Bars.
(Source – Recipe source The Secrets of Baking, Sherry Yard and The Good Cookie by Tish Boyle)
Ingredients :
For short crust -

All Purpose flour- 1 1/4 cup
Confectioner's sugar- 2/3 cup
Pinch of salt
Butter – 1 1/2 stick, room temperature
For the filling -
Sugar- 3/4 cup
Lemon zest- 1 tbs
Eggs -4
Lemon juice-1 cup or a juice from 3 lemons.
Condensed milk- 1/2 cup
All purpose flour- 3 tbs
Salt- 1/4 tsp
Powdered sugar for dusting
Method :
To get started pre heat oven 350 degrees f and line a 9inch square baking pan with aluminum foil with sides up from all four sides. To make the crust, in a large mixing bowl put flour, salt, sugar and butter. Mix with a spatula or wooden spoon to a nice sticky dough, not very sticky though. Press this dough into the lined baking pan and pat it into an even layer using your hands or spatula pushing half way up the sides of the pan. Pop it into the oven for 20 mins till the edges become golden brown at 350 degrees F. Remove from the oven and let the crust cool in the pan itself while you make the filling. In a large bowl mix together eggs and condensed milk. Add in flour (which will act as a binder to the filling), sugar, baking powder, salt, lemon juice and zest. Mix together all the ingredients till you get a nice creamy filling. Pour over the crust and bake at 325 degrees F for about 20-25 mins.Lo and behold! The bright yellow color will make you one proud baker, I promise. Cool at room temperature and then place the pan in the refrigerator to chill for 1 hour before cutting into bars. To finish dust the top of each bar with powdered sugar and serve.