Whenever I am at a baking aisle of the supermarket or my local grocery store, I cringe at the ready to use boxes of cakes and brownies. Ofcourse, it has helped many non-bakers to whip up a cake for frequent occasions on the go but you should know it ain't troublesome at all to make one from the scratch if you understand the science of baking. For me, it all initiated with a passion to learn the wonderful art of measuring, sifting and mixing. And honestly some failures! I've met many people who are afraid to begin the process for the mere reason it won't turn out exactly as it is supposed to be but hey you are not alone. All that is needed is some home-work on how to start baking with confidence. While I am not a professional baker and don't even create complicated baking recipes, I want to provide my basic baking tips and tricks (although very imperative) that have helped me along the way so that you'd always think multiple times before putting that cake-box in your grocery list.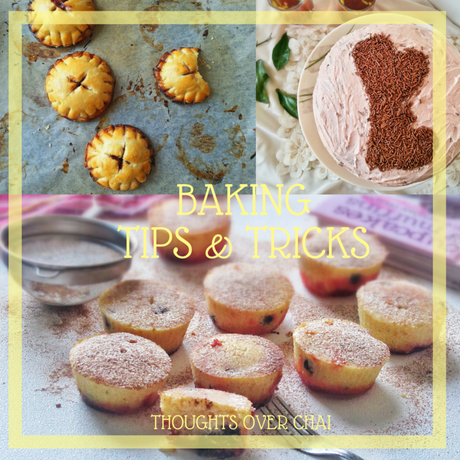 Start slow by investing in measuring spoons, a sturdy weighing scale, quality baking pans (in literally every sizes and shapes!), whisk, spatulas, cookie cutters and use the best possible ingredients for the recipe. And watch all the good results start to happen in a mixing bowl.
It all takes off from holding on to the measurements in the recipe accurately. Never underestimate why a particular recipe calls for an exact cup or grams because baking is all about precision and the most crucial part.
Be prepared and keep all the ingredients ready at the outset. Get your stuff ready – soften the butter, bring eggs to room temperature, measure the ingredients, preheat the oven and grease the pan before you proceed and keep it ready on the counter. This will definitely help in making no blunders! And it also means you read and re-read the recipe in full carefully.
Preheat the oven. Oven will give your baking dish its unique value, so its very important to preheat the oven and maintain the temperature by keeping the door closed for your cake and muffins to rise beautifully and cookies to cook even;y. I always preheat my oven for 20 minutes before putting my baking pan inside.
Butter is the most important ingredient in most baking recipes. While most require butter at room temperature, others need it to be chilled. Always place the butter on the counter to bring it to the perfect temperature. This helps in beating the butter and sugar into light and airy; and also creates a supple and rich texture in any baked goodies. Never microwave or melt the butter unless the recipe calls so.
Incorporate dry ingredients with wet by folding. It is essential not to overmix the batter (no one likes the tough cake, eh?) and I consistently make sure not to stir too much. If you aren't too sure, best bet is to fold and bring the ingredients together by moving the spatula in the batter and turning the mixing bowl with a light hand.
Know your flour. There are many gluten free options available but traditionally flour (that comes from wheat) is the main star of any baked goodies and it is vital we learn what various types like all purpose, self rising, bran, cake flour, bread flour mean and its uses in the recipe.  I find this resource from Joy The Baker extremely helpful in understanding various kind of wheat flour available in the market and know which ones to use when.
Always remember that anything you create in the kitchen only taste much better if you are having fun in the process.So keep these tips handy when venturing out to bake and have jolly good time with it.
With all that learning, there should be some treat. Right?
This may feel odd to many of you but like most Indians, I find extreme comfort in straining the yogurt because there are so many different ways in which I can put it to use. Although I most often use it for marinating the meat and making kebabs, its lovely creamy texture is excellent for a light and moist cake.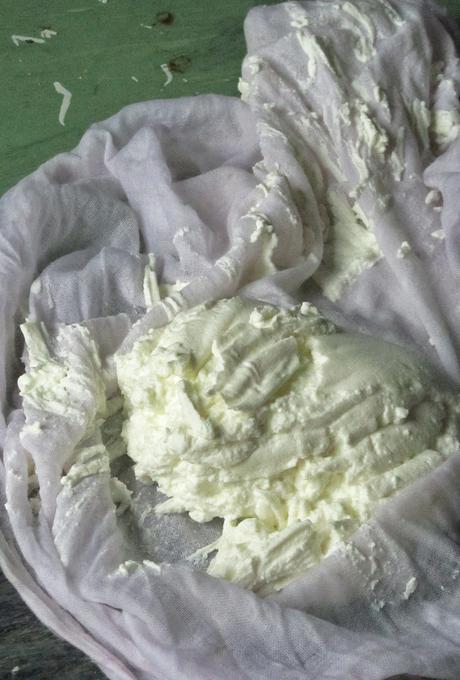 You won't necessarily have to tie the yogurt into a cheese/muslin cloth for a couple hours to strain the whey, albeit I recommend you do, you can buy a Greek Yogurt from your local store to make this beautiful strawberry yogurt cake. Or swap with a sour cream if you feel like it.
This is a simple cake. And quite versatile too. I like to decorate it with fruits someday, or keep it plain, or eat a slice with a dust of icing sugar. Somedays, a creamy glaze just feel about right. This time around, there were boxes of strawberries we picked up on a whim so I knew I had to make something sweet with them. It was a perfect companion to our cups of strong afternoon tea and Little A also got to a carry a slice in his snack box the other day.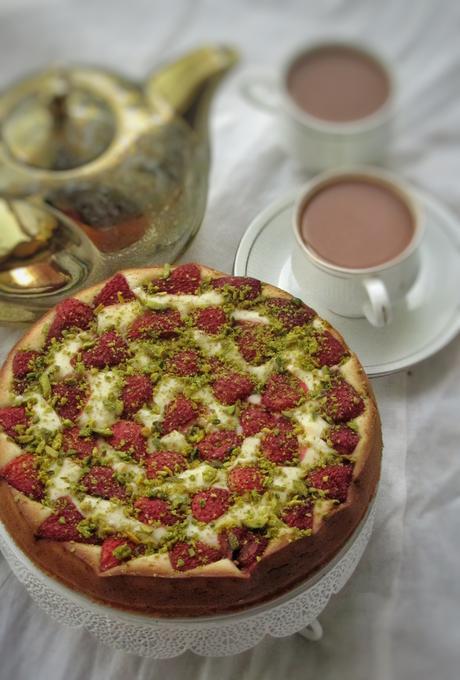 If you make this recipe, kindly share your photos and feedback with the #thoughtsoverchai on Instagram and Facebook. I'd love to see your creations!
Strawberry Yogurt Cake
Ingredients:
All purpose flour – 2 cups
Unsalted  butter – 100 gms, at room temperature
Greek Yogurt – 1 cup
Egg – 1
White granulated sugar – 1 cup
Baking powder – 1 1/2 tsp
Salt – a pinch
Vanilla essence – 1 tbsp
Strawberries – about 15, halved
Crushed pistachios – 2 tbsp, optional
Method :
Grease 12 inch springform pan or a 9 inch cake pan with butter and dust with flour. Preheat the oven to 180C.
In a bowl mix together all the dry ingredients – flour, baking powder and salt.
In another mixing bowl, cream butter and sugar until pale and fluffy. Add egg and yogurt and beat for another few minutes until it becomes light. Mix in vanilla essence.
Incorporate dry ingredients into wet until all combined. Do not overmix.
Transfer the batter into a cake pan and line the strawberries on top.
Place in an oven for 45-50 minutes until a toothpick inserted comes out clean and cake start to pull out from the sides.
Cool on the rack for atleast 15 minutes before slicing. Dust with pistachios and serve with your favorite brew and fresh cream.