One of the earlier friendships I formed when I started this blog was with Linda. She came to be very pious offering constant support to her peers yet no attitude hanging off her sleeves. She runs a successful food blog, La Petit Paniere, which is a diary for fascinating Mediterranean recipes where she makes the best possible use of freshest ingredients from her pantry, that reflect her roots and origins. 
Her instagram gallery and blog will make you jump right into the kitchen, I promise!
Over to Linda- 
Please tell us who you are and where do you come from?
My name is Linda and I'm from Algiers, a beautiful city located on the Mediterranean Sea.
How did you develop your interest in cooking?
I definitely developed my interest in cooking during my childhood, thanks to my grandmother.
Please tell us about your family background and culinary habits that has inspired your style of cooking.
I grew up between Algiers and Paris, and come from a family which values and enjoys sitting around a table, and eating together. My parents, aunts and grandparents all lived on the same street, and we always all ended up at my grandmother's house. Her kitchen was the centerpiece of the house. Everything was made with passion, and to my eyes, perfection, and everything was homemade of course!
In terms of inspiration, our cuisine itself has been influenced by different cultures, including Spanish, Moorish, Italian, Maltese, Turkish and French. The smell of fresh bread being cooked on charcoal on a small gazebo, or the aroma of herbs around the house, and the fragrance of orange and citrus flowers through the windows. All of these smells and images remain engraved deep in my memory, and also serve as a source of inspiration in my way of cooking.
What are your top five must have ingredients in the pantry? And why?
1) Olive oil: for the flavors it brings to your food, and for it's beauty and simplicity. Bread dipped in olive oil is too simple, yet so good. 2) Harissa: I love this spicy sauce, which can bring relevance to any meal. The thick 
texture and incredible red color brought by this small red chili pepper (courtesy of the Mediterranean sun) 3) Ras El Hanout: This is a very unique spice made with a range of 7 to 20 ingredients (and sometimes even more), because it brings so much richness to your palate. 4) Coriander: Called Qouzbor in Arabic, I love the freshness it can bring when topping off a dish with it. 5) Almonds, for my sweet Algerian desserts.
Rapid five:
Have you ever had to work with a strangest ingredient in your kitchen? If yes, what was it?
– Pekmez, Grape Molasses.
Your favorite chef and why?
– I don't really have a favorite chef; I think they all excel in different ways. I have one regret that there are more male chefs than female, but I'm to see that is (slowly) changing.
Your go-to weeknight meal?
-An omelette, with a side of salad, a good cheese and yogurt to finish it off.
 Your soul food?
-Tarts (sweet and savory).
Your favorite kitchen appliance?
-My new stand mixer :D
What, in your opinion, is the most versatile food/ingredient to work with?
Definitely aubergines. 
 
Have you ever made a mistake in the kitchen? Please tell us in detail.
I've made so many mistakes in the kitchen, and have failed so many times… I once doubled the baking powder measurement in my cake, and as you can guess, was a complete disaster. Even with jam on top it still tasted too bitter!
You have to be really proud of yourself. What is your secret to be an amazing home cook?
I have no secret, I just love and enjoy cooking and baking but there is one thing, when I see my family or my friend asking for another portion or another slice, I feel so happy.
In an era of fast food and take aways, what advice would you like to give people regarding the importance of home-cooked meals?
I think it's very important to know what we are eating, and where our products come from. Although I understand some people lack the time, I think more effort matched with better organization (preparing weekday meals on weekend's for example), one should be able to eat more at home. Seriousness aside, It's also sometimes just about the fun of improvising and creating something tasty!
 If there is one dish that people should definitely try from your blog or site, what would that be?
My smoked salmon and spinach tart, a delicious savory tart (aka: my soul food).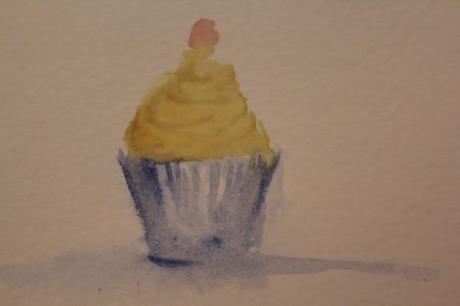 Image Source : a beautiful cupcake watercolor painting by Linda.
Its been wonderful knowing Linda personally and through her blog. You can find her wonderful recipes and work on La Petit Paniere and through her social media channels.
Follow us on Facebook, Instagram and Twitter and look for updates to know which home-cook we are celebrating next.