I've seen quite a few different people post about what they have in their handbag and because I'm nosey I've really loved reading them. Seeing as I've loved reading these posts I thought it was only fair that I do my own.
I tend to have quite a big handbag but often i can end up carrying around a lot of junk like old receipts and notes or lists I've written for myself.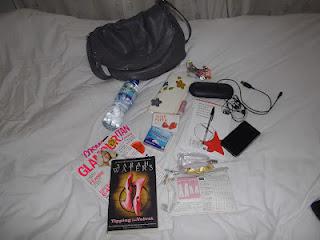 This is everything that I had in my handbag today (Saturday), my bag was a Christmas present the year before last and was from H&M, it's been a great bag and I've never had struggle fitting everything I need in.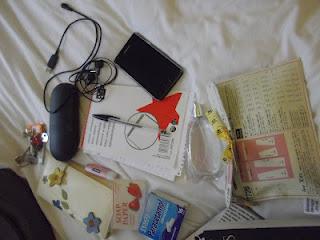 I love my purse I only bought it about 6 weeks ago but it's perfect as it holds everything I need without me having to overload any of the pockets. I got it from a small local shop, me and my mom had just decided to pop up into town for some lunch and we ended up having a look in the shops and we both came away with a new purse.
I always have my phone with me as well as a spare lead so that I can charge it or get pictures from it at any point, there's normally a computer somewhere which I can use, especially at work. You never know when you're going to need earphones so it's always best to have them, though my sister gets more use out of them than I do.  
You are guaranteed to find at least 3 sets of keys in my handbag but usually I have 4, there will normally be my car keys which aren't in my bag at the moment along with a set of house keys and two sets of keys for work.
I've also started keeping a reasonable sized notebook on me at all times so that I can write down any ideas that I might have for future blog posts, or I'll just write down the thoughts I'm having which happened quite a lot last week.
I always carry a small make-up bag which contains some hand cream, lipstick, lip liner, mirror and a nail file. I'm coming to the end of the perfume bottle, it's Anna Sui Secret Wish Magic Romance but since Christmas I've been wearing Paul Smith Rose which is lovely and I ran out the other month and took to using my old perfume until I could pick some up. I'm currently only using my new bottle for special occasions but once the Anna Sui is used up I'll be back to using Paul Smith all the time.
I'm one of those people that believes in carrying things for every occasion which is why I always have paracetamol and ibuprofen in my handbag along with hand sanitiser or paper soap. I always have a bottle of water with me and there's usually a bar of chocolate too or a little something to nibble on. One of my old friends used to call me mom because I had everything she needed in my handbag whenever she wasn't feeling too good or needed a good cry after splitting up with a boyfriend.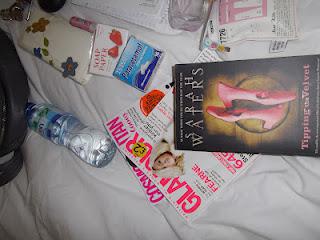 As it's the beginning of the month I have a copy of both Cosmopolitan and Glamour which are the two magazines I always read. I have read them both but I always keep hold of them in case I need something quick to read at any point but I also carry a book with me for reading at lunch or when someone leaves me waiting an incredibly long time.
That's everything which I have in my handbag at the moment, this post will be scheduled because I'm away on holiday this week and I'm not sure if I'll have chance to post anything.