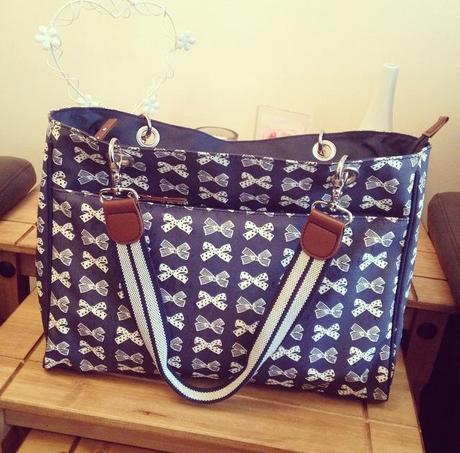 Now that Sienna is potty trained and nearly 2, I don't feel the need to have a full sized changing bag anymore. Going out is so much easier and I was carrying around so much in it that we barely even used. The changing bag I have now is the Pink Lining Bramley Tote in Navy with Cream Bows and I love it!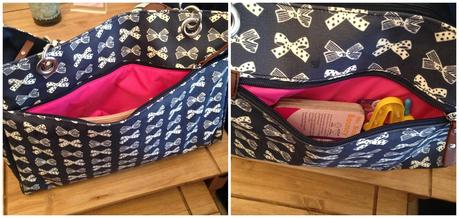 Navy is perfect all year round but even more so in the Autumn. I love the brown detailing, the pattern of the bows, and the contrast of the bright pink lining inside; it's girlie but not over the top. It's the perfect size for us at the moment, what I take for Sienna has been cut down dramatically and so I feel like my handbag is finally my own again-just about! It has a pocket on either side, a standard zip pocket inside and then just a big pocket as regular handbags do. I feel we have just the right amount of pockets for everything, it's the perfect mom & toddler bag!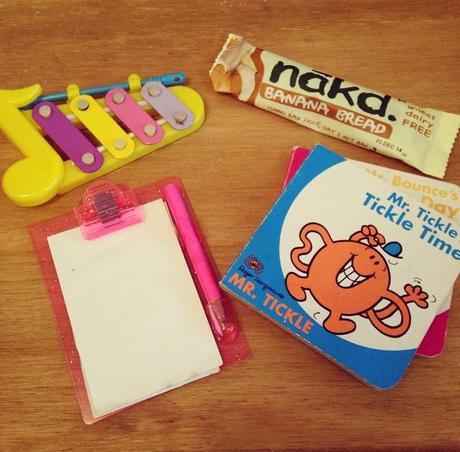 In the smaller pocket on the back, I keep a few little toys in to amuse Sienna when we're out and about and some snacks for when she gets hungry.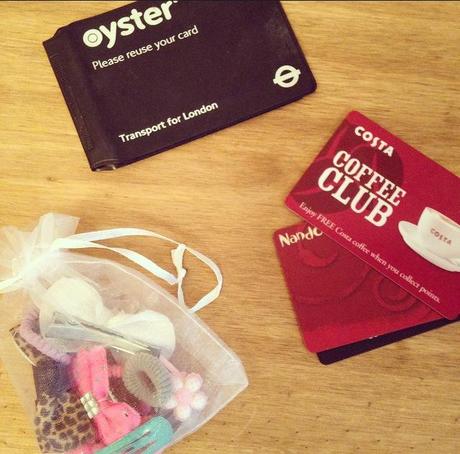 In the inside zip I keep my Oyster card, any store/club/loyalty cards that I don't use all that often and a bag of Sienna's hair clips and hair bands.. her hair is always in her eyes and I need a good selection to choose from that it still matches with what ever outfit she has on!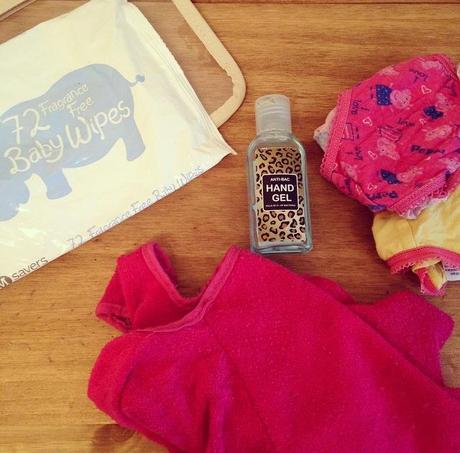 In the larger outside pocket I keep a wet bag, wipes, hand sanitizer, her bib and spare knickers. I also try to remember to chuck in a pair of spare trousers or tights depending on her outfit that day, but to be honest, I mostly forget!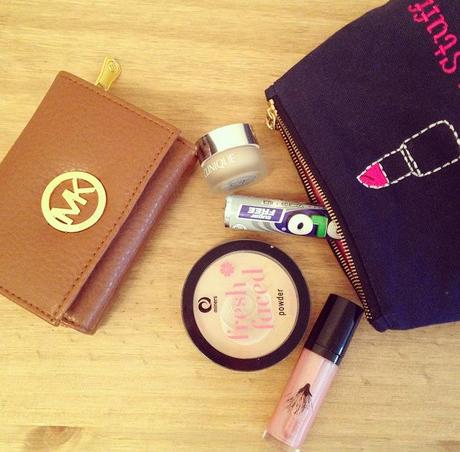 The main section is where I keep my bits.. Just my purse with my cards & money in and my essential make-up items in my Sew Lomax 'Mummy's stuff' bag. Concealer, powder and lipgloss is all I carry. to be honest I barely have time to touch those up let alone anything else! Polo's are also a must!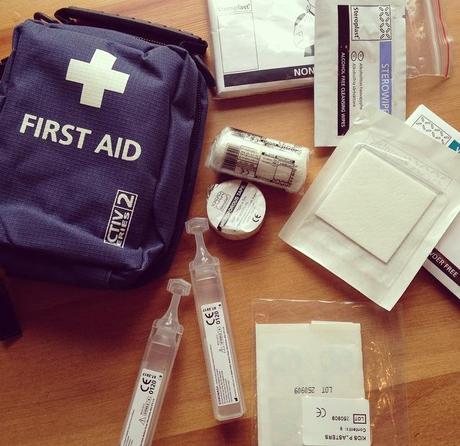 Also in the main section I keep this little Kids first aid kit. I never used to carry one but now Sienna loves to run everywhere, I feel it's essential. This one is fab, it has everything in there you would need for the usual cuts, scrapes and grazes; 
-Alcohol wipes x2, -Creature plasters x9, -5cm conforming bandage, -1 pair Vinyl gloves, -5cmx5cm low adherent dressing, -Triangular bandage, -Microporous tape, -20ml eye wash pod x2.
I do also keep a few sachets of Calpol in there just incase! It surprisingly doesn't weigh that much and isn't too bulky so I find it no problem to carry around with me in my bag and gives me a little bit more piece of mind that I'm prepared if Sienna does get an ouchie! 
What's in your bag?
Follow me: 

BlogLovin'

 // 

Twitter

 // 

Facebook

 // 

Google+

 // 

Pinterest

 // Instagram