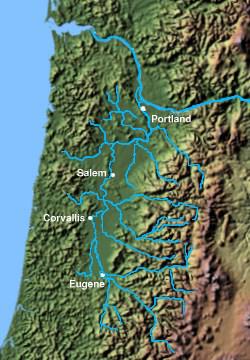 Image via Wikipedia
The WOW group (Women of Willamette) http://www.womenofwillamette.com/ held a hoe down this past weekend and my hubby went with me.
This is a very fun group formed by Meri Kerekanich for any business woman in the Willamette Valley to network and help each other. It's a woman's group – so taking our spouses was a treat – for me at least.
My husband is a great guy and finds it easy to chat with strangers – he sat down in a rocking chair with some other men and one of them asked him, "What's interesting in your life?"
Imagine that – a question with some substance –
Not, "What do you do for a living?" or "Is your wife a member or guests like us?" or "Did you catch the game this afternoon?"
This man asked a question that has some meat to it – and the beauty is that you really don't know what answer you'll get.
My husband mentioned that he's involved in putting on a fund raiser next weekend for a wonderful family in our county whose boy is on 24/7 medical care and the needs they have.
The man who asked the great question then asked, "Would you like a donation?" and of course my husband said yes.
So this got me thinking – what questions do we ask when we meet people for the first time? What do we want to know? How engaged in life do we want to be?
There's a wonderful book about this by Gay Hendricks called, Five Wishes: How Answering One Simple Question Can Make Your Dreams Come True
I'm thinking the mystery man – I didn't get his name though I know my husband did – is a pretty interesting person himself. He's a great example for me – and I hope now for you as well.
Today as you move through life – can you ask more compelling questions? I'm sure we can!
Hey – if you would like to help out this wonderful family whose boy is in such need – you can donate to The Cody Fund at any Wells Fargo Bank branch. – Thank you!
Remember – you create your day by the way you think! Make it magnificent!
Blessings, Shawna