Only one diamond of every 10,000 is not colorless. If additional trace elements and distortions were introduced to interact with the carbon atoms during the diamond's formation, some lovely shades of color occur. They are called fancy color diamonds.
A fancy yellow diamond, sometimes called a canary diamond is one such gemstone. A yellow diamond occurs in nature when nitrogen molecules combine with carbon atoms and absorb blue light. They have been unearthed in the rough mainly in Australia and South Africa. Some have been found in Russia. The largest and most famous ones were discovered in South Africa.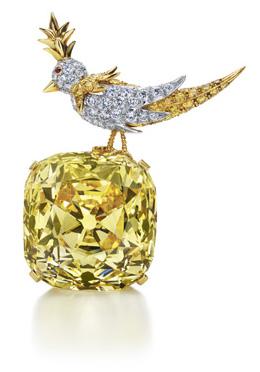 The Tiffany Diamond in its 'Bird on a Rock' setting. The 128.54 carat diamond is now set in a necklace.
The most well-known yellow diamond is the Tiffany Diamond, mined in 1877 and famously set in Schlumberger's ribbon necklace for Breakfast at Tiffany's, his "Bird on a Rock" brooch, and now a diamond necklace to commemorate Tiffany's 175th anniversary.
The Four "Cs" and Shape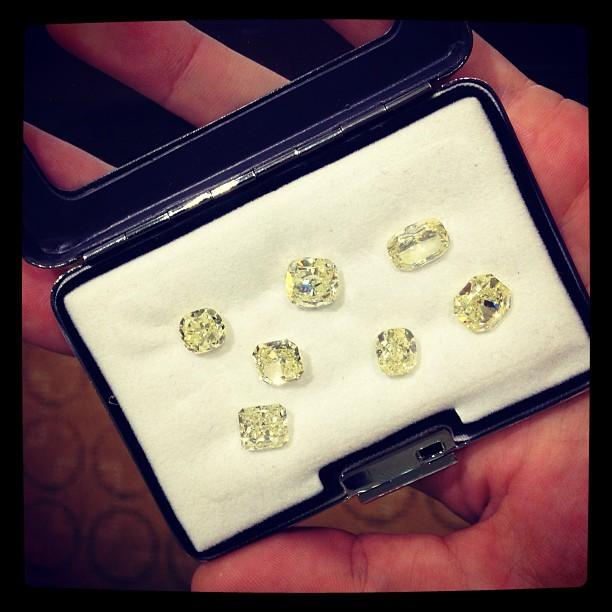 A diamond is graded by using the four "Cs" known as cut, color, clarity and carat and then by shape. The depth and intensity of color is what matters most in a yellow diamond. They are ranked in an order of intensity that ranges from fancy light yellow to fancy vivid yellow.
Carat weight is the next most important factor that impacts the price of a yellow diamond. It is rarer to find larger yellow diamonds than smaller ones; therefore the larger the more valuable. Clarity is not as important as it is in colorless ones. That's because the diamond's color distracts from its inclusions. Yellow diamonds are cut to emphasize color while colorless ones are cut to bring out their brilliant sparkle.
Different from cut, shape refers to the outline of the diamond while looking down at it. Fancy yellow diamonds are often cut in less traditional shapes to emphasize their color.
Yellow Diamonds and Celebrities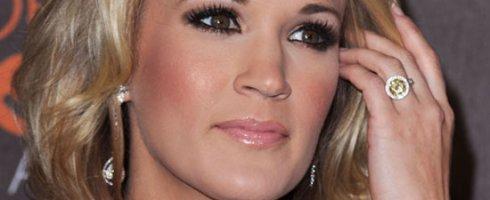 Yellow diamonds seem to be highly preferred among celebs. Former American Idol stars Kelly Clarkson and Carrie Underwood both have gorgeous yellow diamond engagement rings.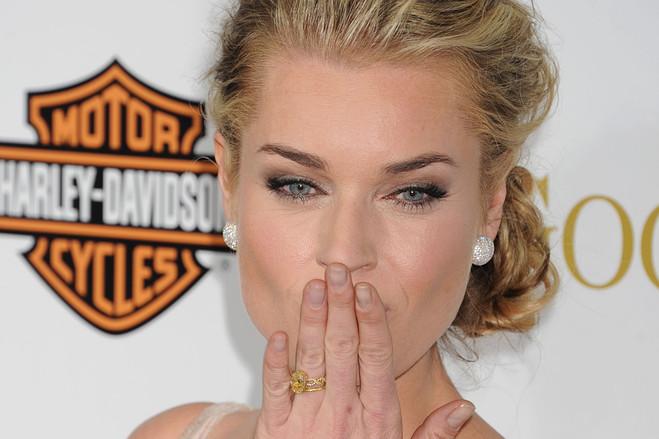 Heidi Klum wore a 10-carat one during her marriage to Seal. Actress and model Rebecca Romijn sports a 6 carat yellow diamond engagement ring on her left ring finger.