A man in a difficult position, Carlo Ancelotti
Carlo Ancelotti was a made man. He sat at the top of the Premier League having seen his side score more than 100 goals in a season – the first time since the great Spurs side of the 60's –, a £9 million contract in the bag, and the promise of a serious assault on the Champions League in the 2010/11 season. This year should have seen football bets placed in favour of the Blues winning the Premier League cashed in.
It is not as if it all went wrong overnight. Chelsea started the season on fire; 25 goals in their first 6 matches. These goals showed a team that looked to shaking of the restrictions of Ancelotti's diamond formation from the previous season. A balance was found as a team relatively devoid of width excelled with a three man attack of Didier Drogba, Nicolas Anelka and Florent Malouda, the third who was allowed to drift into dangerous wide positions.
But slowly but surely Chelsea have seized up and grinded to a halt, and with their future at Europe's top table threatened, their long term strategy has been somewhat exposed.
Ancelotti's men have suffered from a certain degree of short sightedness. The attempts to inject young blood into the squad have failed, with the likes of Gael Kakuta and Daniel Sturridge unable to work their way past established stars into the first team – so much so that they have been shipped out on loan. This is all well and good in that it helps them gain experience, but now that Chelsea's older stars are struggling, there is no one there to step in to help, no plan B. Without Abramovich's backing in the summer transfer market before the president exploded into life in January, Ancelotti will have been frustrated with a club that looks to have stagnated.
While Jack Wilshere excels for Arsenal and Javier Hernandez and Rafael Da Silva are given opportunities to play first team football at Manchester United, there is not a single young player making their way through to the first team of Chelsea.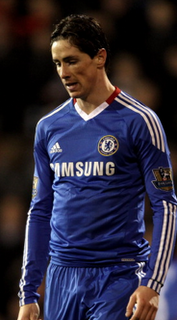 The unproven Spaniard
The Italian manager has also had problems thrust upon him in the shape of Fernando Torres. The Spaniard is a shadow of his former self, unrecognisable from his Liverpool pomp. The £50 million pound man has to play, simply put, for both his sake and the sake of the club – but that leaves Ancelotti with a headache. The previously employed threesome of Anelka, Drogba and Malouda worked well, with Malouda drifting off the front two while Anelka occasionally dropped slightly deeper, meaning there was some variation in their attacks.
With Torres in place of Malouda, Ancelotti has three very similar strikers. All three men are quite adept at playing on the shoulder of the last defender and often look to make runs in behind the defence. The problem is that in their last Premier League game against Fulham, the distance between the three was minimal as they bunched together to no great effect. Anelka is forced to go deeper in search of the ball, curbing his creativity in a role he is no more than adequate in, while Drogba and Torres attempt similar movements. Chelsea's threat has receded and their variation diminishes. Torres may still come good this season, but on this form he is unlikely to be installed as football betting favourite for the top scorer award any time soon.
Of course injuries have played their part, the loss of Drogba and Frank Lampard for large portions of the season have hurt the team. And perhaps the greatest loss of all has been Michael Essien, who still looks short of form in midfield. In their absence, some of Chelsea's play has been ponderous at best.
Against Fulham last week, Chelsea seemed happy to shift the ball slowly between midfield and defence, and teams have been quick to figure out that two simple, well organised banks of four would deal with the slowly attacking team. Without the physical presence of Drogba, who looks to still be recovering from his bout of malaria, and the attacking link up play of Frank Lampard so crucial to Chelsea, the team's attacking threat curbed further.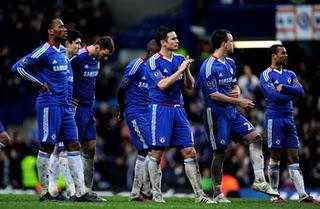 A disappointed team, recently knocked out of the FA Cup
But where does that leave Ancelotti? Well on the brink, truth be told. Owner Roman Abramovich will not tolerate their under-performing for much longer and their Champions League tie against Copenhagen is a must win, yet ironically remains a lose-lose situation for Ancelotti. A comprehensive victory over both legs will be expected as a given, anything less will be pounced upon.
Those placing football bets know that Ancelotti is a fine coach with an excellent record, and the signing of David Luiz looks to be a good one. But his squad needs addressing, both in terms of balance and personnel.
Ancelotti has recently set his sights on a top four finish, and after the FA Cup defeat against Everton and the Premier League title out of reach, the Champions League looks to be the only competition in which his side can make an impact. If Carlo Ancelotti doesn't overcome Copenhagen easily, then he will be in serious trouble.