The standard height of a bathroom vanity cabinet is 30″. Bathroom vanities range from 30″-36″ in height. Modern bath cabinets have become taller in recent years in what is known as "Comfort Height Vanities."
Vanities come in a variety of height arrangements including standard height, comfort height, and vessel sink height. Standard vanity height is often contested and there's not really a regulated "standard height." The standard height of a bathroom vanity is determined by averages of the most common heights of bath vanities.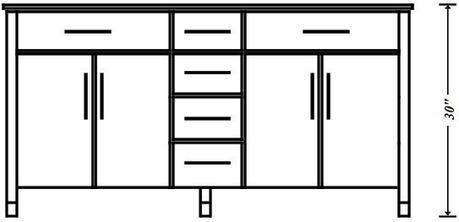 Standard Bathroom Vanity Height is 30″. Vanity countertop height ranges from 30″-36″.
Standard Bath Vanity Height – 30″
Standard bath vanity height is 30″. Generally speaking bathroom vanity countertop height can range anywhere from 30″ -36″. Standard height vanities work well in homes that have young children that may be at a disadvantage while using taller vanities.
Comfort Height Vanity – 36″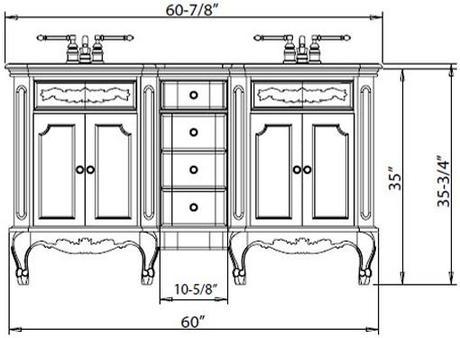 This is a diagram of the 61″ Point Loma Double Sink Vanity. The Point Loma is a comfort height vanity with a total height of 35 3/4″ which is just shy of the taller 36″ vanities.
Newer bathroom vanities are following the trend of Comfort Height Bathroom Vanities. Comfort height vanities are taller than standard vanity height in order to reduce the pains of bending over to wash up.
Comfort height vanities match the dimensions of a standard 36″ kitchen countertop. Kitchen countertops are primarily used by adults for cooking preparations and are not readily accessed by small children. In contrast, the bathroom is used by children which is why bathroom cabinets are typically lower than kitchen counters. Comfort height vanities are ideal for empty-nest home parents and single adults.
How tall Should a Vessel Sink Vanity Be? – 30″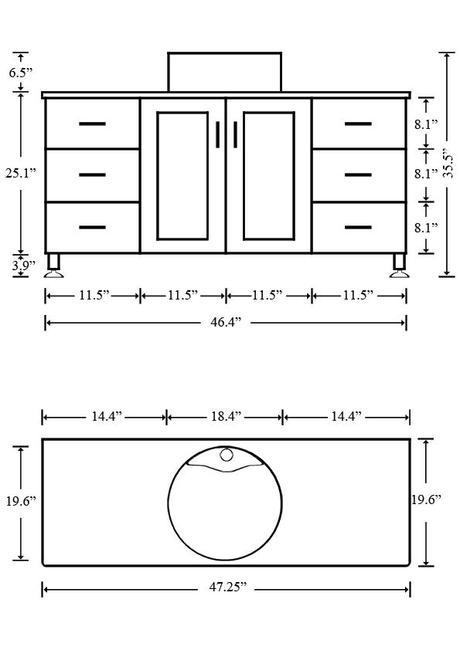 This diagram shows the dimensions of the 47.5″ Grand Lune Vessel Sink Vanity. You can see that the vanity height is 29″ + 6.5″ for the vessel sink for a total height of 35.5″.
Generally speaking, a bathroom vanity will be lowered in order to accommodate for the extra height added by a vessel sink. Vessel sinks typically add 5-6″ to the height of the vanity countertop. For example, if you want the rim of your vessel sink to be at comfort height, you will need a vessel sink vanity that is 36″-6″=30″ in height.
I was able to write a complete write up on About.com about the Pro's and Con's of Vessel Sinks. You should check it out if you're interested in installing a vessel sink. Likewise, you can view a number of vessel sink vanities by visiting Tradewinds Imports.com.
What Size Bathroom Vanity Should I Get?
What size bathroom vanity you decide to get ultimately depends on your personal preference and living circumstances. A majority of new vanities are made at Comfort Height. This provides ease of access and will result in a more natural form.
If you need an accessible bathroom, sticking with a standard height bath vanity will make day-to-day tasks easier. Vessel sinks are artistic creations that are more suitable for homes without children as they are harder to clean, taller, and can be more fragile.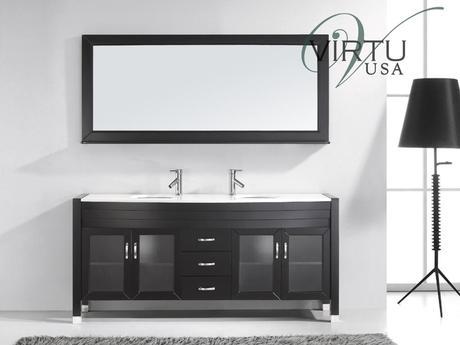 The 71″ Ava Double Sink Vanity from Virtu USA has a counter height of 33.46″. It is one of the most popular models from Virtu USA. Learn More.
Tradewinds Imports makes shopping easier for you. Click here to Shop for Vanities by Size!
More Information:
Things to Consider When Choosing a New Bath Vanity
Choosing the Right Bathroom Vanity for You: A Basic Guide
Choosing the Right Bathroom Vanities
Remodeling with Bathroom Vanities
Things to Know Before Purchasing a Bathroom Vanity
About the Author
Cheryl Khan is a designer and writer at Tradewinds Imports, an online specialty site dedicated to retailing fine bathroom furnishings. She has extensive knowledge about all the finer details that go into planning the perfect bath renovation project and is an expert in all things bathroom! Send her your bathroom Q's on twitter @SuperInteriors!