It is the number of axles that determine whether the trailer is a single or a double axle variant. In a single axle trailer, there is a sole set of wheels. Whereas in double, the set of wheels are twice the set. The count of wheels makes it easy to determine a trailer type.
Single axle trailers:
Generally it is easier to maneuver a single axle trailer as it is smaller than a tandem model. If the parking space is limited you must go for a single axle model of a flatbed trailer. However, it is recommended to consult with the car trailer manufacturer to choose the best model based on your needs.
Also, when it comes to mileage, single axle trailers are more efficient due to the size and lightweight. When you choose to tow a vehicle, the process becomes easier as they are low in height. Single axle trailers are often adjustable with towing angles. In their case, the cost is also less compared to a tandem axle trailer. As the trailers come with fewer tires, replacement cost too gets reduced along with maintenance expenses.
However, they have some drawbacks too due to their smaller size. The moving and storage ability becomes limited. Remember, when the size of the trailers is small, their tires are smaller too. This means they quickly wear out.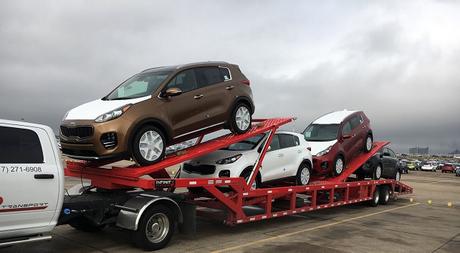 Tandem axle trailers:
A tandem axle trailer has two sets of axles. One is situated on the right and the other is just behind it. As it comes with extra tires, you have the chance to load larger weights. It is also more stable than a single axle trailer even at higher speeds. A typical tandem axle trailer comes with higher payload capacity which means you can have more room for hauling.
If you need to haul extreme heavy loads, tandem trailers are excellent for such jobs. This gives you the opportunity to expand your business. The investment in a tandem axle trailer may be bigger than its other counterpart, but it's worth in the long run. However, towing may be a bit problem in such trailers. Before towing, make sure that the trailer is level to prevent damage to the cars.
Most car trailer manufacturers come with unique ideas that prove to be beneficial for your business. You just need to consult with them before taking the final decision.