On April 15th, in a ruling made by the Supreme Court of India it recognized transgender people officially as third-gender. To be included in different welfare schemes; providing employment, health care, education, rights to adopt a child and other rights as a citizen. And the court recognized the right to call oneself trans-gender is by one's own choice.
What the NALSA judgment means for India's Lesbian Gay Bisexual and Transgendered Community, Georgina Maddox reports—
'Eunuch Mana Hai' *, scribbled in black, across the white tiles of the ladies loo in Lower Parel [Mumbai, India]. Evidently trans-genders do not need to urinate. 
'Eunuch Mana Hai', the men don't like them in there either… usually they read hijra presence in a male toilet as an invite for a blow job. Sex and urine flows in an endless stream of fluids. 
'Trans-Man Mana Hai' this was not written, yet Satpaul waited till everyone had left the cinema theater and rushed to the ladies stall. He smiled, for despite his lush beard, he still could not stand and pee.  "Post-OP I will use the Men's" he said.
'Yahan moothna mana hai',** written in red across the walls of Carter Road; yet we are forced to look away as CIS men piss on the very sign "Didn't you see the sign?" we asked forgetting… men reserve the right to urinate in public. Like dogs they mark their territory, everywhere. —GM 2005
* translation "mana hai"= isn't allowed/ prohibited
** Urinating here is prohibited.
I had written this angry poem in 2005, which I wanted to read as spoken word poetry nine years later, at the celebrations at Jantar Mantar [in New Delhi] in 2014after the NALSA (National Legal Services Authority) judgment was announced.  However I decided not to when I saw the jubilant faces, the colorful posters, the drag queens decked out in their best…I didn't because I realized it was a celebration filled with positivity, so I put a cap on my pen and sang a victory song.
NALSA was a momentous judgment that affected us all and on April 19th , 2014, Queer folks had flown down from all over the country for the celebration; transgender groups like Pehchan, India HIV AIDS/Alliance, 207 against 377 and the Delhi Queer Pride committee that is known for organizing the Pride Marches in the capital, came together for the first time to organize and celebrate the judgment.It was an event that cut across class and gender, across our varied personal politics and more importantly it presented a united front at a time when the homophobic, trans-phobic Right Wing appears poised for another term in office.  [There appears to be a wave of BJP, the right-wing political party in this year's Lok Sabha elections in India. Last time BJP was in power we had the Kargil War, fought between India and Pakistan in 1998. Some politicians from this party have also openly supported the SC judgment of calling homosexuality unnatural and punishable by law. read]
The celebration took place even while a section of trans-gender folks had expressed misgivings about the judgment terming it unclear and trans-phobic in its over-simplified understanding of what trans-gender meant. However the celebration was important not just because it presented an intersectional viewof our politics but also because the LGBT community had so little to celebrate, after the disappointing Supreme Court Judgment that disregarded the progressive High Court Judgment of 2009, in favour of upholding 377 of the Indian Penal Code.
Essentially 377 is an archaic British Law that drafted by Lord Macaulay way back in 1860. It criminalizes sex against the 'order of nature' in other words sex that was not reproductive. This law criminalized even consenting adults of the same sex and gender queers, including those from the Hijra and transgender community. Over the years this law has been used to intimidate queer people, extort money from them and deny them their basic human rights of freedom of choice and expression.  Despite the SC claim that the law has not been enforced, there have been several criminal cases registered against individuals under 377, the Naz Foundation arrest in 2001 being the classic case that formed the basis of all our struggles as a community forthwith.
In the face of these dark times the momentous judgment that came to be known as NALSA was of the National Legal Services Authority versus the Union of India & Ors. [Writ Petition (Civil) No. 400 of 2012 ('NALSA')] and it was pronounced by a division bench of Justices K.S. Radhakrishnan and A.K. Sikri. Under this judgmentthe Supreme Court has affirmed the constitutional rights and freedoms of transgender persons, including those who identify as third gender and those who identify in a gender opposite to their biological sex, i.e., persons, assigned female sex at birth, identifying as male and vice-versa.
While by recognizing diverse gender identities, the Supreme Court has broken the binary gender construct of 'man' and 'woman' that has pervaded Indian law, it still criminalizes consensual sex between adults who are either same sex or gender variant and it was a clarion call to march forward and challenge the SC Judgment to uphold 377. The curative petition to read down 377 had already been filed and it was the perfect time to come together to create a platform that addressed the LGBTIHQ community's various concerns on the matter.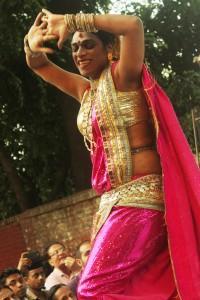 Ahar Abheena
The event kicked off with speeches from Laxmi Narayan Tripathi, one of the most well know and visible faces of the transgender movement. Laxmi said she was finally proud to be called Indian and made clear her intention to cast her vote in this year's General Assembly elections. "Today, we have a reason to clap our hearts out. However, the struggle continues. We will fight till we get our rights," she said.
Senior counsel Anand Grover who was also the counsel for petitioner NGO Naz Foundation against 377, delineated the connection between the NALSA judgment and 377. A progressive judgment like NALSA that upheld human-rights was not just a watermark judgment for members of the LGBT community but is a good spring board and grounds for fighting against the decision of the Supreme Court to uphold the archaic 377 law "The judgment says there will be no discrimination on the grounds of sexual orientation or gender identity, which means that it has now opened the door to challenge the Koushal judgment," said Grover. The curative petition was admitted and at the time of the celebrations the hearing was pending.
The speeches were followed by vigorous dancing by transgender drag queens like Ahar Abheena who performed a Lavni Marathi style and Noori who did a Bollywood number. Vasu Primlani regaled the crowds with her stand-up comedy act. Singer-song writer Suman Sridhar brought the evening to a close with her smoky R and B voice crooning Bollywood songs like, 'Khoya Khoya Chand', Hawa Hawai and a spoken word performance called 'It'.
Evidently all the singing and dancing to celebrate NALSA was not premature, for on April 22nd, a bench led by the Chief Justice, saw the Supreme Court agreeing to hear oral arguments on Curative petitions filed by several interveners in the Suresh Kumar Koushal vs Naz Foundation case. Curatives were filed by the original petitioner Naz Foundation, Voices Against 377, parents of LGBT persons, teachers, mental health professionals and the filmmaker Shyam Benegal. This is an extremely significant development since only two curative petitions have been admitted by the Supreme Court since 2002, when the apex court evolved the curative as a mechanism for aggrieved parties to apply for relief after dismissal of a review petition.
Anita Dube, an artist, wrapped up the current developments rather succulently. "The old guard is still clinging desperately to patriarchal values, despite the changes that are evident in our socio-political fabric. While they are willing to grant the queer community some reprieve on the grounds of human-rights, when it comes to sexuality, to pleasure and desire the gates just close and the discussion just stops."
Here is hoping that the discussion never stops, and through the mediums of protest, art and culture, law and social reform, the dreaded section 377 leaves Indian shores forever.
AUTHOR BIO
Georgina Maddox has engaged in the act of curating, collaborating and writing about art practices that examine and speak about issues of gender/sexuality/marginalization and the juxtaposition of social hierarchy with acts of agency and defiance, for over 12 years.
She has been published in many magazines and has a regular column in Time Out and Blink (Hindu). Her curatorial ventures include @rt Virtually Real (2012), Superpower (2010) and Pixel Power (2009) and has published essays in important books like Articulating Resistance: Art and Activism (2012) and Phobic and the Erotic: The Politics of Sexualities in Contemporary India (2007.)
http://themaddoxproject.wordpress.com/
Featured image- Laxmi Tripathi and Anand Grover