*At the time of this post, the art has been removed and the Chelsea Manning Maintenance Crew is looking for your help!
LOS ANGELES, CA — At the corner of Santa Monica and Sanborn in Silverlake, the likenesses of Julian Assange, Edward Snowden, and Chelsea Manning loom large–a mural honoring the trio of "whistleblowing" activists was painted by LA-based artist Mear One  in February. But the artist's depiction of Ms. Manning, showing her in the beret and cropped haircut that mark a time before the media knew her as Chelsea, has drawn confusion and frustration from residents and area activists since its inception. As a result, one group of LA-based transgender artists and allies has set out to make lasting change.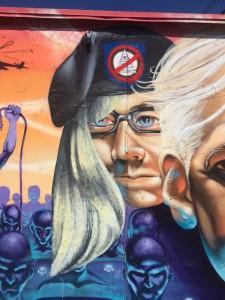 CMMC has added the swatch of blonde hair to Chelsea Manning's likeness on a mural in LA.
"Chelsea came out as trans in August of 2013, by the time that mural was finished, the images of Chelsea (that she herself proliferated in the media) depicted her with long blonde hair," said an anonmyous member of the group, "Chelsea Manning Maintenance Crew," (CMMC) whose aim is to reright the misgendering of Manning. "We hope Mere One and others will join with us to honor Chelsea in the way she'd like to be honored."
As such, visitors to the mural can now see a blonde swatch of hair peeking from beneath Manning's iconic beret, which has been wheat pasted over the mural by members of the anonymous group.
"Our hope is that this alteration can be made permanent," said CMMC. "Misgendering Chelsea Manning is an erasure of her true identity as a trans person and a woman. Our action's intent is to adjust the mural, subtly, with respect, and in solidarity with the subversive spirit of the artist's intention, by adding hair to the left side of her face."
"Misgendering" is a practice of referring or referencing a person using terms or image that express a gender alternative from the one they'd prefer. For example, portraying Ms. Manning as a masculine figure, is a form of misgendering.
"For so long, transgender people have been erased from the cultural conversation. We think it is an act of justice and support to modify this mural to honor Chelsea," said CMMC in a statement released Monday.
The group is now putting out an open call to businesses, neighbors, friends, and allies to band together and support a permanent change to the mural. For more information about the group's activities, email: ChelseaManningMaintenanceCrew at gmail.com
One blogger who recently profiled Mere One and his experience of the mural writes:
"One quote [on the mural] reads 'Knowledge is power and there is no higher knowledge than truth. The truth shall set you free.'"  Whistleblowers Julian Assange, Chelsea Manning and Edward Snowden..the sacrifice [sic] that they made were tremendous. When we're made aware of what they did as Mear One depicts it here, I feel a sense of obligation to bear witness to the truth."
CMMC is attempting to direct public attention toward such truth, the erasure of transgender identities and an essential, imperative respect for Ms. Manning.