FROCKTOBER is full steam ahead this week, with lots of variations and different brands. Also, I want to talk about NEUTRALS, as some people have questions, such as, "Can I wear brown and black together?" Yes, you can. They are two neutrals. Just as you can wear gray and black, or black and tan, or even brown and gray (which can look quite elegant, actually), so can you blend neutrals. Blue is a neutral (think about your blue jeans…you wear them with anything, right?); therefore, you can mix your neutrals. Don't be afraid to do it. It can look quite lovely.
I'm a petite person, and as such, I stay away from big patterns, large stripes, and heaviness of clothing, especially on top or around the mid-section, which will only add more weight and bulk to my already short stature. I'm quite curvy, and so I must choose the right clothes to help balance my silhouette. Darker colors on the bottom typically help this, wearing the same color on top and bottom helps you appear taller, and too much bulk will just make you look bigger than you are.
Here are the looks from the week that were posted on my Instagram. See you next Sunday.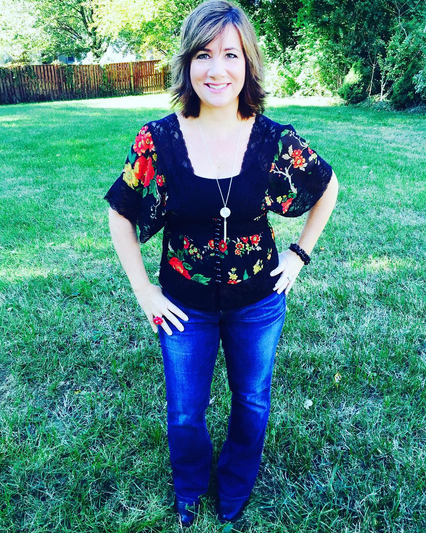 #Frocktober | Day 9 slipped into this #ootd for Sunday — #anntaylorloft curvy jeans; #forevertwentyone top; black booties from #mossimo. This is about as big a pattern as I will wear on top. The open neckline opens me up and lengthens me. The cinched waist helps accentuate my waist and gives that hourglass shape.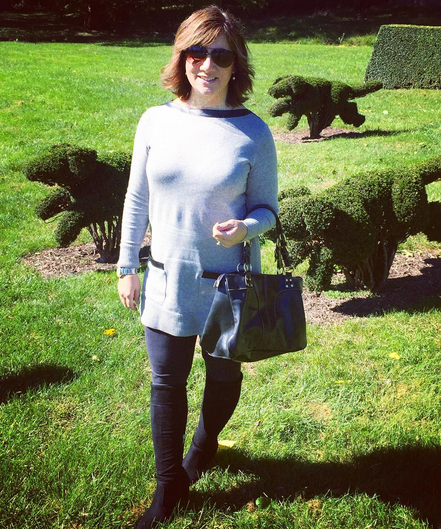 #FROCKTOBER Day 10 | Today's #ootd is all about comfort as my husband and I strolled @ladewgardens during my fall semester break — #Target leggings with #jeannepierre leather trimmed gray sweater from #macys, perfect for the 60 degree weather and sunny skies; #marcfisher black suede tall boots with gold detail.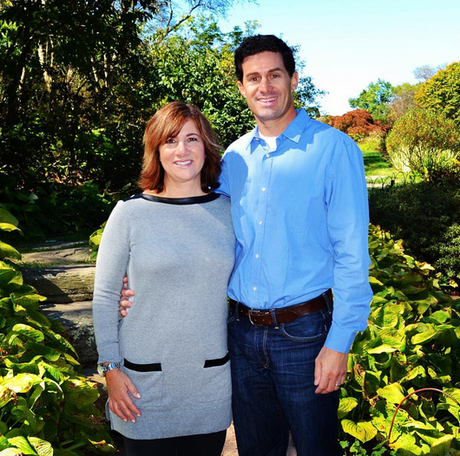 Got someone to take our photo during out outing to Ladew Topiary Gardens on Monday during my fall break from the university. It was lovely to do nothing but stroll and enjoy the spectacular weather.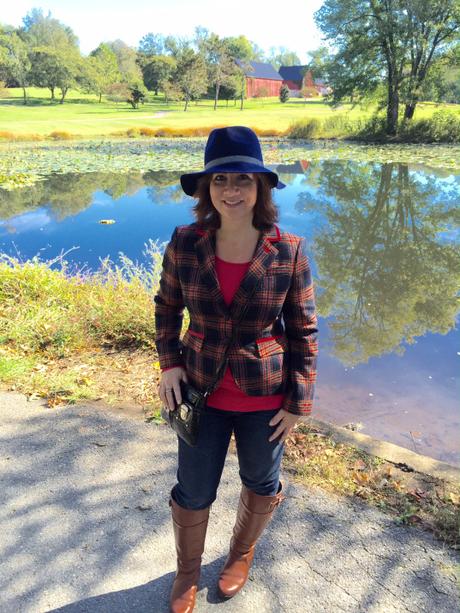 #FROCKTOBER Day 11 | Wore this #ootd to my son's District Championship golf match today (they qualified and are heading to States!)…#Laurenconrad jeans; red sweater from #anntaylorolft; plaid jacket from #Boden; #Bandolino boots; #danabuchman bag; #Mudd hat. So proud of Matt and his team! It's a happy Tuesday!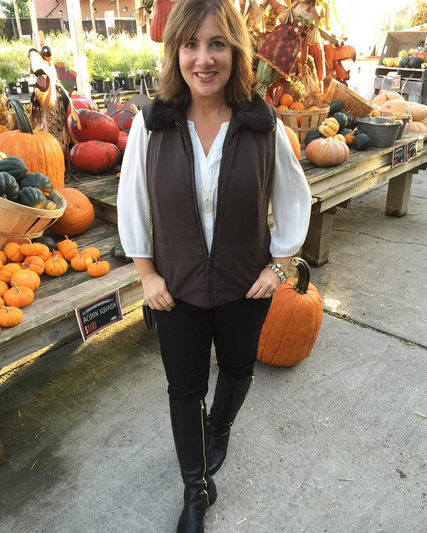 #FROCKTOBER Day 12 | Today's #ootd proves you can wear two neutrals, even when those neutrals are brown and black. Black straight leg pants by #jenniferlopez; cream colored blouse from #anntaylorloft; brown vest with fur trim from #anntaylor; black boots with gold zippers by #tahari. Photo taken in one of my favorite local shops, #homesteadgardens.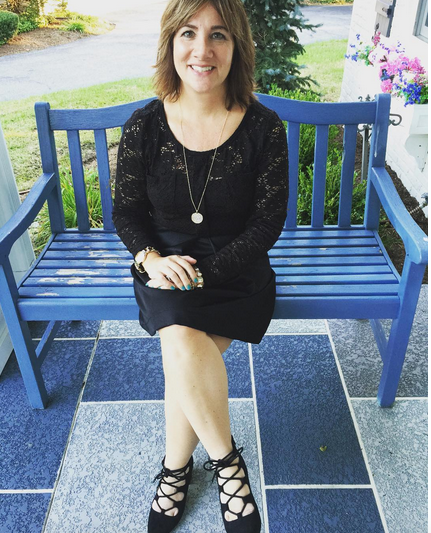 #FROCKTOBER Day 13 | My daughter thought the previous pic was too dark, so we're trying this again with better lighting…when this month is over, I'm going back to writing novels. This modeling thing is not for me…😘. Back to work after fall break in today's #ootd on campus: #verawangprincess dress; #mossimo black lace-up shoes and metallic bag.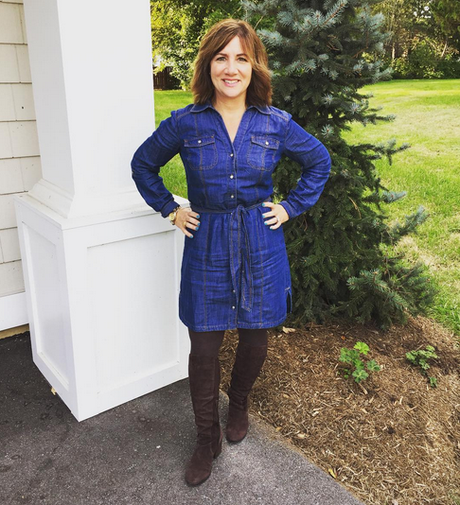 #FROCKTOBER Day 14 | #Friday fun in this new #ootd, a lightweight, long-sleeved denim dress by #Inc from #macys and brown suede boots with tights by #ninewest … Looks like it's going to be a beautiful weekend. Enjoy it, everyone!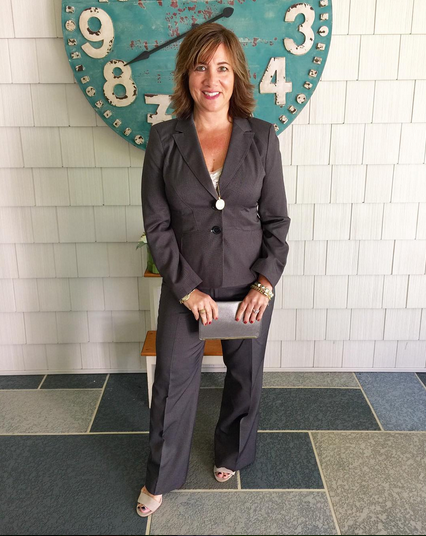 #FROCKTOBER Day 15, Part 1 | #Saturday in a suit? Yes…just for the morning for @stevensonuniversity's Open House for prospective students. This #ootd suiting is by #AnnTaylor in brown; #ninewest cream-colored suede shoes; lace camisole by #Bordeaux; #mossimo metallic bag. Changing into something more Saturday-like now…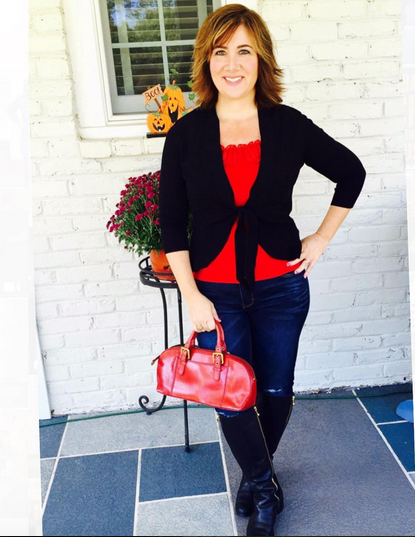 #FROCKTOBER Day 15, Part 2 | Running out to do some errands in this casual #ootd — #starcity red top with ruffle; #whitehouseblackmarket black sweater and super straight legged jeans; #tahari boots; #maxxnewyork red leather bag.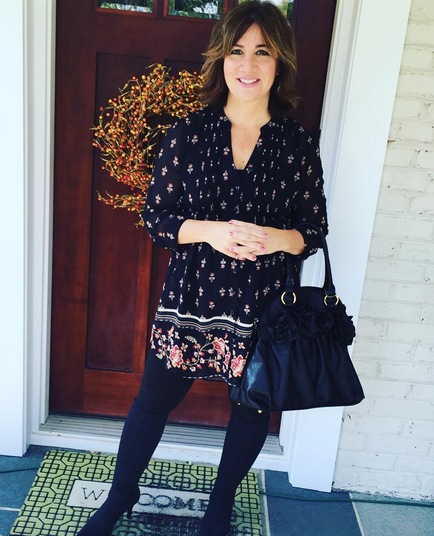 #FROCKTOBER Day 16 l #Sunday's #ootd and a little over the halfway mark (thank goodness!) in this transitional fall look … #americanrag top from #macys; #anntaylorloft leggings; #charlesdavid boots; #bigbudda bag.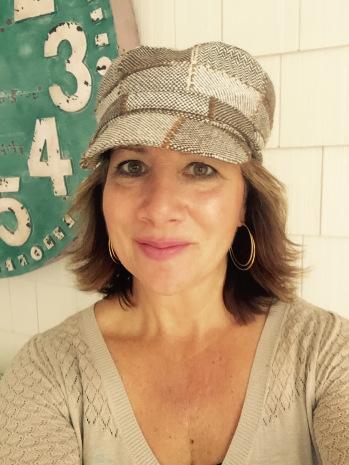 Just a little thing about hats…I love to wear them in the fall and winter. This one's been around for a while, but it's one of my favorites to throw on. I have this style in black, brown, and gray. Once again, these neutrals can go with just about anything.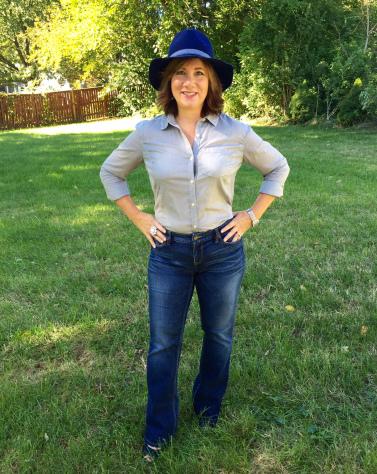 xx |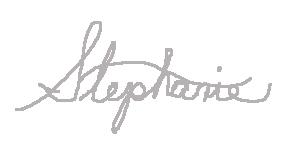 Stephanie Verni is the author of Baseball Girl, Beneath the Mimosa Tree, and the co-author of Event Planning: Communicating Theory and Practice.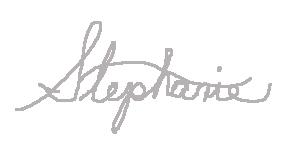 Stephanie Verni is the author of Baseball Girl, Beneath the Mimosa Tree, and the co-author of Event Planning: Communicating Theory and Practice.