Welcome to the latest edition of What I'm Watching, a series that twice a month looks at the films I've been watching recently. Today's post covers all the films I've watched since July 15.
Films Watched for the First Time: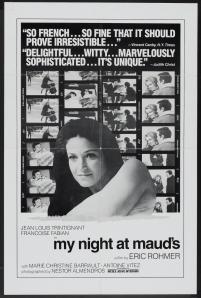 My Night at Maud's (1969): A film that gave me a feeling of tremendous warmth and a great urge to discuss, mull over and concern myself with its many charms. The main centrepiece of this Eric Rohmer masterpiece (my first Rohmer film) is a long conversation between Jean-Louis Trintignant and the titular Maud, which concerns sex, politics and personality. Mesmerising. 9/10
The Brood (1978): I have to admit, I was disappointed by this popular early David Cronenberg horror. For the most part it's weak and flawed, and while it does have a few good scares, I lost patience with it quickly. 5/10
Scanners (1981): With this subsequent film, Cronenberg improved his form but not by much. Scanners, often regarded as a classic, is far from a great horror movie and lags in some sequences. That said, it's not a bad movie and worth seeing if you're a fan. 6/10
The Conformist (1969): This is what I'm talking about. Bernardo Bertolucci's first great film, The Conformist flies through its two hour runtime with an engaging story, stunning direction and many powerful moments (its climax is absolutely unforgettable). 9/10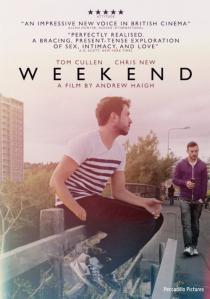 50/50 (2011): A decent, well-made comedy that trudges into moving drama and does it well. While some of the actors aren't as sharp as they should be, the film is anchored by a strong and quite moving performance from Joseph Gordon-Levitt. 7/10
Weekend (2011): A definitive example of why I believe independent cinema is far superior to mainstream cinema. You would never get a film like this made in the mainstream, not the way this is made, not with as much truth and reality as this one embodies. Beautiful and important movie. 9/10
Love is Colder than Death (1968): Rainer Werner Fassbinder's first film and one he put a lot of time and effort into, as writer, director, star, editor and production designer. Each shot is a marvel, cold and sparse but oddly transfixing. The cast give inspired performances, and it is wonderful to see a young Hanna Schygulla working with Fassbinder for the first time. 8/10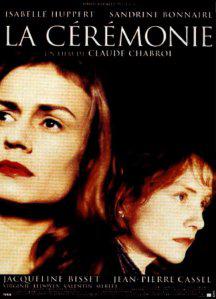 La Cérémonie (1995): Powerful, moving and with each plot twist, completely unpredictable, this – dare I say it? – masterwork from Claude Chabrol was a stunning introduction for me to his career, and a film that really knocked me for six with its strength and brilliance. 8/10
Vanya on 42nd Street (1994): Visionary filmmaker Louis Malle's final film, Vanya on 42nd Street is a filming of Chekhov's famous play Uncle Vanya in a decrepit theater featuring actors such as Wallace Shawn and Julianne Moore. Unsurprisingly mesmerising. 8/10
The Dark Knight Rises (2012): Though the movie is admittedly flawed (sometimes seriously so), that doesn't really detract from the viewing experience a lot, especially if you see it in a cinema (which for God's sake, if you're going to see it, see it in the cinema!). The plot holes may start to hit you on the way home, but while you're there in your seat, Nolan's creation is mesmeric and wonderful. 7/10
The Beekeeper (1986): Surprisingly underrated film from Theo Angelopoulos, this powerful movie starring the great Marcello Mastroianni of Fellini fame is surprisingly beautiful, making use of Angelopoulos' famous long takes and powerful directorial style. 8/10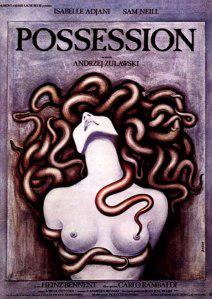 Ugetsu (1953): My first Kenji Mizugochi film, Ugetsu is a powerful story of two men who travel with their wives to a distant land, only to find their priorities challenged, their faith destroyed and themselves separated. Great movie. 9/10
Possession (1981): Isabelle Adjani. Did I hear someone say best acting performance in a horror movie ever? Perhaps… 10/10
Earrings (2012): If there's anyone I know destined for true cinematic greatness, it's Alex Withrow. His first public short film Earrings is a stunning start to a hopefully great and long career. Watch it here. 9/10
Bobby Fischer Against the World (2011): Interesting but not exceptional documentary about the troubled life of chess prodigy Bobby Fischer. 7/10
21 Jump Street (2012): Boy, am I glad I saw this. And boy, do I want to see it again. Easily one of the cleverest and funniest comedies of the last few years, 21 Jump Street is consistently entertaining and stunningly never runs out of steam during a runtime that approaches two hours. 8/10
Before the Devil Knows You're Dead (2007): The great Sidney Lumet's final film, this strange thriller often disputed amongst various cinephiles seems to me, simply a great, great film and nothing less. The actors give excellent performances (particularly the always perfect Philip Seymour Hoffman), the script is well-written and the non-linear timeline is engaging and consistently surprising. 9/10
Rewatches Since July 15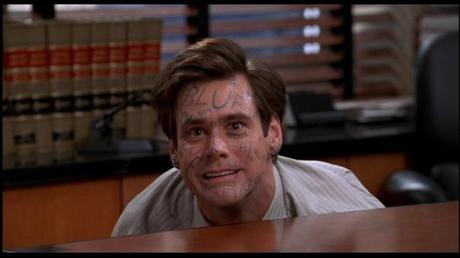 Damage (1992)
Dogma (1998)
Evil Dead II (1987)
Naked (1993)
Delicatessen (1991)
Back to the Future (1985)
Werckmeister Harmonies (2000)
Back to the Future Part II (1989)
Back to the Future Part III (1990)
Liar Liar (1997)
Eyes Without a Face (1959)
Glengarry Glen Ross (1992)
Caddyshack (1980)
All Films Watched For the First Time in July, Ranked
10/10
Rocco and His Brothers (1959)
9/10
Bad Lieutenant (1992)
My Night at Maud's (1969)
Earrings (2012)
The Conformist (1969)
I Was Born, But… (1932)
Before the Devil Knows You're Dead (2007)
We Need To Talk About Kevin (2011)
The Skin I Live In (2011)
Ugetsu (1953)
8/10
Don't Look Now (1973)
21 Jump Street (2012)
Shadows (1959)
Wendy and Lucy (2008)
From the Life of the Marionettes (1980)
Vanya on 42nd Street (1994)
56 Up (2012)
Julien Donkey-Boy (1999)
Love is Colder than Death (1995)
The Beekeeper (1986)
Torment (1944)
Elegy of a Voyage (2001)
The Bad Lieutenant: Port of Call New Orleans (2009)
Hard Candy (2005)
7/10
A Lesson in Love (1954)
Peeping Tom (1960)
50/50 (2011)
The Dark Knight Rises (2012)
Bobby Fischer Against the World (2011)
6/10
Karin's Face (1984)
Jesus Camp (2006)
Scanners (1981)
A Film With Me In It (2008)
Sione's Wedding (2006)
Doodlebug (1997)
Befrielsesbilleder (1982)
5/10
The Brood (1978)
4/10
Sione's 2: Unfinished Business (2012)
3/10
Glen or Glenda (1953)
Angels and Demons (2009)
2/10
1/10
New Years' Eve (2011)
Fred: The Movie (2010)
NO RATING
Sex and the City 2 (2010)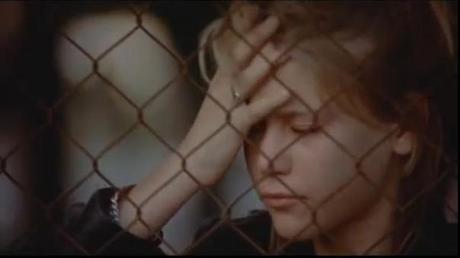 Best Film Watched in July 2012: A Swedish Love Story (1970)
Worst Film Watched in July 2012: Sex and the City 2 (2010) (also the worst experience I've ever had watching a film)
Upcoming Films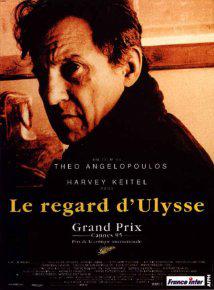 Last time I checked in here, the following films were on my ten-movie-only Letterboxd watchlist:
The Conformist, Night of the Living Dead, Vanya on 42nd Street, Love is Colder than Death, The Gold Rush, Film Socialisme, Chelsea Girls, Out 1, The Terrorizers, Les Vampires
. Since the 15
th
, I've watched the first, third and fourth of those films, and their current replacements are
Ulysses' Gaze
(1995),
The Magic Flute
(1974) and
Katzelmacher
(1969). I hope to have seen as many as five films on the watchlist before August 15, the date of the next
What I'm Watching
post.
Other films I plan to watch in the next two weeks – or month, perhaps – include: Lukas Moodyson's Together (2000), Rainer Werner Fassbinder's Beware of a Holy Whore (1971), Roberto Rossellini's Rome, Open City (1946), and others, but mainly some of the ten on my Letterboxd watchlist.
So what about you? Have you seen any of these films? What did you watch in the month of July? What were the highlights? What do you think of the films I saw? Leave a comment.