After a successful foraging session at a local park here in town, I have a pretty good haul of wild ramps. I try to be a careful and respectful forager with any wild ingredients I collect and this practice definitely extends to ramp hunting. It has been pointed out recently that both novice and regular foragers may be over harvesting and destroying the ramps natural abundance in some areas of the country. It is important to leave some of the alliums in the ground and not decimate the whole area when digging.
This weekend I plan on making a lentil pie with ramps and goat cheese based on a recipe from a great Food & Wine cookbook I received as a holiday gift a couple of years ago. The original recipe calls for red bell pepper (I do not care for any bell peppers) so I have replaced it with ramps. Not an equal flavor exchange but still frickin' delicious. The original recipe also calls for 1/4 cup fresh mint. I have found parsley (while a different flavor profile) blends very well with ramps. So, if you have some extra parsley feel free to substitute.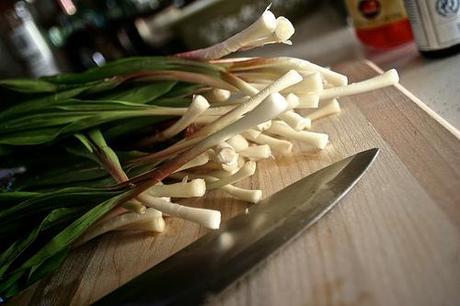 Recipe: Phyllo Crusted Goat Cheese and Lentil Pie with Wild Ramps
Adapted from The Best of Food & Wine
Ingredients
2 tablespoons extra-virgin olive oil
1 medium onion, cut into 1/3-inch dice
1 fennel bulb, cut into 1/3-inch dice
1- 1 & 1/2 cups wild ramps trimmed and sliced into 1/3-inch
2 garlic cloves, very finely chopped
1 cup French green lentils
2 teaspoons fennel seeds
Kosher salt
2 cups water
1/4 cup chopped parsley or mint
1 tablespoon chopped thyme leaves
1 tablespoon red wine vinegar
8 ounces soft goat cheese
Freshly ground pepper
1 stick unsalted butter, melted
Fourteen 9-by-14-inch sheets of phyllo dough
Directions
In a large saucepan, heat the olive oil. Add the onion, fennel, red pepper and garlic and cook over moderately high heat until softened, about 5 minutes. Stir in the lentils, fennel seeds and a pinch of salt. Add the water and bring to a simmer. Cover and cook over low heat until the lentils are just tender, about 35 minutes. Drain the lentils in a strainer and let cool for 15 minutes.

Preheat the oven to 375°. In a large bowl, mix the lentils with the mint, thyme and vinegar. Crumble in the goat cheese, season with salt and pepper and mix well.
Brush a 10-inch glass pie plate with melted butter. Lay 1 sheet of phyllo over the pan; tuck it into the pan and let the ends hang over the side. Brush the phyllo generously with butter. Repeat with 6 more phyllo sheets, rotating each one 45 degrees to create a circle of overhanging phyllo. Spread the lentil filling in the pan and top with the remaining 7 sheets of phyllo, buttering between each one, to make a top crust. Loosely roll up all of the overhanging phyllo to create a 1-inch wide border. Brush the border with butter.

Using a sharp knife, cut the pie into 8 wedges, cutting through the top layer of phyllo only. Bake the pie for about 1 hour and 40 minutes, until the top is golden brown. Transfer to a rack and let stand until cooled slightly, about 15 minutes. Cut the pie into wedges and serve hot, warm or at room temperature.