Focus on the now, not the result.
My daughter, an equestrian, rode for Australia at the London Olympics.
Her campaign, however, started long before that. She moved herself and her horse to Germany almost two years before to lift her game. She needed to train and compete at the elite level. Olympians in any sport do much the same.
Performance on the day is the ultimate test, but the preparation is crucial. It requires intense commitment in the right environment.
Along the way, I became acquainted with modern sports psychology. I expected focus on things like passion, grit and determination. Instead, her performance advisor, Gareth Mole of Condor Performance, spent most time helping her eliminate the distractions of the things an athlete cannot control.
There are a lot of them. One is results. I watched him once suggest this to members of a rugby league team. It was met with disbelief. They felt their team had a winning culture. The next question: "Then how come you didn't win last weekend?"
Why not?
It came down to things you can't control, like the weather. Sometimes it suits the opposition. Ditto for injuries. They can't be predicted. Then there's home ground advantage, the bounce of the ball or the performance of opposition players. All are out of your control. So, therefore, are the results.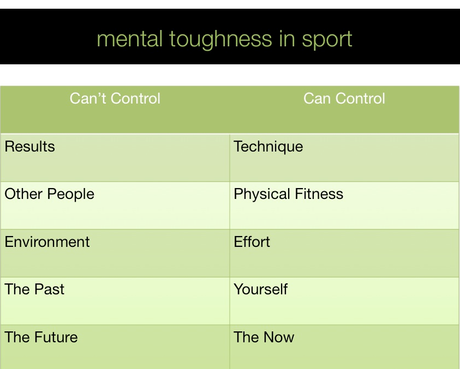 Sports psychologists define mental toughness as the ability to focus only on the things you can control. Everything else distracts from peak performance.
In sport, that means working on technique, maintaining physical fitness and putting in maximum effort. On the day, it means staying in the now, avoiding the distraction of uncontrollables, forgetting the result and staying on top of your game. Sometimes it's called being in the "zone". That's what the now is.
Does it apply in business?
Managers can fret about all sorts of things they can't control.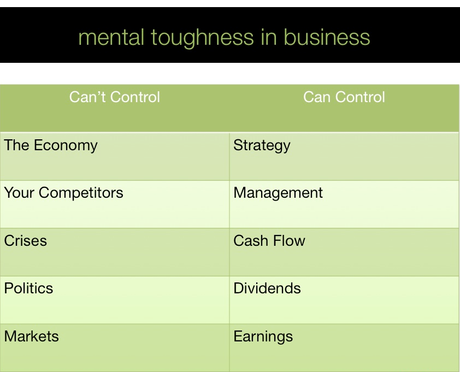 They are powerless over the economy. That's decided at the macro level, not the micro. You can't control your competitors. They don't work for you. Nor can you do much about crises or politics. Markets, too, have a mind of their own. They are impacted by anything from Greek politicians to the price of iron ore.

What you can control is your strategy: how you cope with a changed environment and take advantage of it.

You are also able to manage your strategy and your people, staying flexible enough to navigate through difficult times.

You are also in charge of cash flow, inventory, marketing and motivation. Your job is to optimize those things regardless of what's happening to the uncontrollables.
Focus on creating value, not realising it
Get that right and you can generate earnings. Sustainable income is what determines shareholder value, whether there is one shareholder or many. At any point in time, markets may put a high value or a low value on that income stream, but that's out of your hands.
In business, as in sport, the distraction of things you can't control takes your eye off the ball. To optimize the likelihood of good results, focus on the things you can do something about.