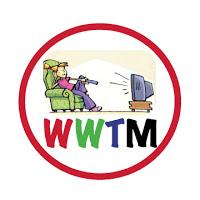 THE ANSWER TO WEDNESDAY'S TRIVIA QUESTION: Whoopi Goldberg played Guinan on Star Trek the Next Generation
FIRST FIVES: Crystal Kyler, Mike O'Dea, Elke Raskob, Karen Feldman & Alex Nagler
HONORABLE MENTION: Leo MacCourtney
THE NUMBERS 
Sunday's Cable Top 5
NBA Playoffs-TNT 2.5/6.6
FX Movie-FX .7/1.5
Mad Men Finale-AMC .7/1.9
Family Guy-Adult Swim .6/1.5
Devious Maids-Lifetime .6/1.7
Monday's Cable Top 5
NBA Playoffs-ESPN 2.8/7.0
Love & Hip Hop Atlanta-VH1 1.6/3.0
WWE-USA 1.3/3.8
Movie-Lifetime 1.2/3.4
Hit the Floor-VH1 1.1/2.3
Tuesdays Broadcast Top 5
America's Got Talent-NBC 3.0/11.9
The Night Shif-NBC 1.6/7.7
Extreme Weight Loss-ABC 1.3/3.8
NCIS-CBS 1.2.9.2
Celebrity Wife Swap-ABC 1.2/3.7
Tuesday's Cable Top 5 NA
n
Tuesday's Twitter Top 5 Primetime Ratings 
Bad Girls Club-Oxygen 83,000 Tweets
America's Got Talent-NBC 60,000 Tweets
The Haves and Have Nots-54,000 Tweets
Awkward-MTV 24,000 Tweets
Off the Bat From the MLB Fan Cave-6,000 Tweets
THE SHOWS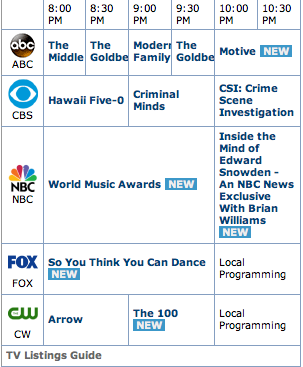 -Tivo and all of my various trusted TV Guides said that last night on NBC at 8pm would be The World Music Awards. I was ready to watch. I love award shows, you guys know that, but when I went to watch it…Last Comic Standing was on. WTF?  Now what? I looked, there was NOTHING else on except So You Think You Can Dance and I just couldn't commit not with Big Brother coming. Soooo, I noticed that I had 4 episodes of Louie that I could try again to like…I tried, I DON'T GET IT! I like Louie C.K. I just don't understand why EVERYONE says he's a genius and that his show is the best thing ever.
-I went back and forth between the Yankee game (Yankees won) the Heat/Pacers game (Pacers won) and the Don Rickles tribute (Don won). If you recall, I was in attendance for the taping a few weeks ago. There was a lot I didn't see from where was I was sitting. I didn't see how much Jon Stewart was laughing his ass off, the guy was hysterical the entire night. I didn't see how much food Barbara Rickles was chowing down on. I'll bet she's pissed off this morning, every shot she was chewing or eating. She also had lipstick marks all over her face. You'd think someone would tell her. I'm sure her daughter Mindy is getting an earful today for not wiping it off with a little saliva/Kleenex combo. Pretty sure they edited Johnny Depp's shpeel, he was horrible live, but seemed okay after the magic of editing. Brian Williams and Tracy Morgan were funnier than I remembered and if Jerry Seinfeld had a cold that night,  I have no recollection of that at all. It was a great night.  If you watched, I hope you enjoyed as much as I did. 
THE OTHER STUFF
-We've known it was coming, no surprise at all that Chelsea Handler and E! are officially parting ways. Her last show on the network will be 8/26. I can't stand Chelsea Handler, so I could care less. I'm reading that she's in talks with Netflix. Everyone's in talks with Netflix. Good News for me if she ends up there, I'd never have to see her again. 
-Remember Jon and Kate Plus 8? Remember Kate's hair? Remember just Kate and the 8?  Well the sextuplets are turning 10 and TLC has it all covered on a "very special" show Thursday 6/19. Jon's gone but everyone else will be there to celebrate the first decade of Gosselin fun and frolic. 
-Pretty Little Liars Marathon alert. The marathon starts on Tuesday 6/10 at 11AM when most PLL fans are in school, but for those that aren't, grab a couch and settle in for all of season 5. You'll be all caught up by 8pm when Season 6 premieres. 
-For all of my local friends, I'm betting Nielsen's been in telling you all their big news. They're increasing their LPM sample sizes in 15 of the 31 LPM markets by 30% Sounds huge right? It's only an additional 200 homes and its over the next 2 years but it does represent a 50% increase in sample size overall. Let's see what that does to numbers. 
Thursday's Trivia Question
: Who played Darlene Conner on Roseanne?
WWTM-Kristy
Like me on Facebook at Watching Way Too Much
Follow me on Twitter at [email protected]
http://watchingwaytoomuch.com
[email protected]