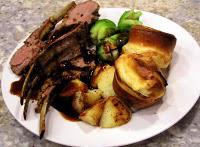 I am not good at counting calories. I just look for things that should be healthy-although we all know grilled chicken and salmon can be loaded with butter and oil-so the "healthy" options aren't always that healthy. I like the restaurants that have a "lite" menu, but we don't go to those places that often because we have three little boys. It's just too stressful and too expensive. I do feel like I gained five pounds this week because we were on vacation and we ate out more than normal. Do you have any tips for eating out "healthy?"
FROM ABC: Good news if you count calories when you're eating out. Bad news if you assume you're picking healthy options at a restaurant. Ever wonder how accurate those menus are in listing calorie information?
The government requires restaurant chains with twenty or more locations to disclose on its menus how many calories are packed into each dish. But can you count on their figures as you're watching your own? A study in the Journal of the American Medical Association says, mostly, yes.
The authors took their own measure of the calories of some 269 food items at 42 randomly-selected restaurants in Massachusetts, Arkansas, and Indiana. They found the calorie contents were-- on average-- more or less as advertised.
- forty per cent of the items were over ten calories higher than listed
- fifty-two per cent were at least ten calories *less* than stated
- just nineteen per cent of the foods were more than one hundred calories over what the menus claimed
There were more discrepancies in sit-down restaurants than in fast-food places. The authors say it may be that sit-down restaurants don't manage portion-size as precisely as fast-food ones.