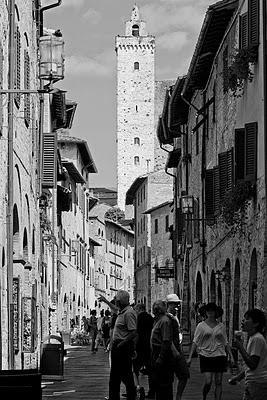 Why do men build tall towers?
After visiting the beautiful San Gimignano, and living in the shade of the giant needle that is the Burj Khalifa, I resolved to learn more, and typed that sentence into google. The entire first page is taken up with the Tower of Babel, a story found in Genesis (starting at 11:4) in the Bible.
A civilization that had progressed to a certain stage had decided to build a tower to "touch the heavens". According to the Bible, this tower was built so high so people could see it from far away, and gravitate towards it. It is said
however that this went against God's commandment to go forth and populate the Earth, instead keeping the people in one central area. At this stage, God made them all speak different languages, which confused them completely, and apparently drove them to the four corners of the earth. The word Babel derives its sound from the Hebrew word for confused, and has now created its own English word, "babble". There are apparently similar stories in the Quran, but either set in Egypt in the time of Moses, or without the symbolism of the tower (Wiki link here)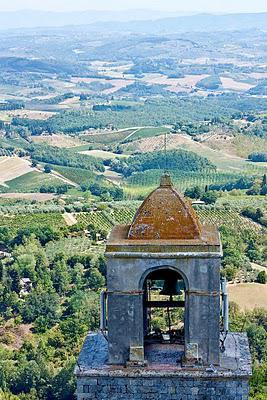 There are many theories on the psychology behind the erection of towers. Freud believed that this was a symbol of the phallus. A way of saying "mine's bigger than yours", and therefore I'm more of a man than you. There are other psycological theories that stem back to the Babel story - a tall tower symbolises a great city. Or, if the great city doesn't exist, a la
Field of Dreams
, "If you build it, he will come." - a totem that marks the start of a great metropolis. Historically, towers were also believed to represent the voice of authority, ie. "If I'm strong enough to get this tower built, imagine what I'm going to do to you if you don't stay in line!", but if you ask Freud, he may say that's just going back to his theory. (Incidentally, he initially said it about the Eiffel Tower, concluding the erection was "typically French". Naughty boy.). The reason for building towers today can more straightforward and easy to explain without a hidden subconscious meaning - declining horizontal space - e.g. Manhattan Island - requires new building to be vertical.
So. Why did they build the towers in San Gimignano?
The town was wealthy and powerful in Medieval times. San Gimignano's position on the road between Canterbury and Rome, and sandwiched nicely between Florence and Siena put them at the centre of trade and pilgrim routes, giving rise to the affluence and power of many families, particularly the Guelphs and Ghibellines. Initially, there were planning rules that forbid buildings being more than 17 yards wide and 24 deep. Initially, the wealthy  simply embellished their homes, but soon realized that modern architecture would allow them to go up, and they did. It then became a competitive environment, the higher the tower, or the greater quantity of towers a family posessed, the greater they picture of wealth it painted. At one point there were 72 towers, the highest at 54 metres. Now there are 14, and the tallest remains. There is more information linked here. I have to admit it - although there are several theories that could be applied, I'm kind of going with Freud here. I am however going to leave the ball in your court when it comes to the Burj Khalifa...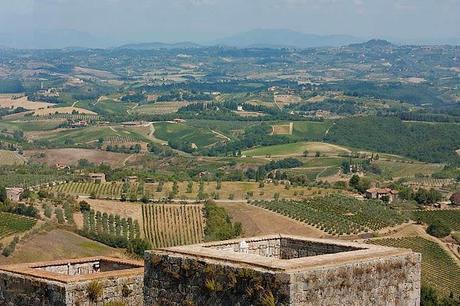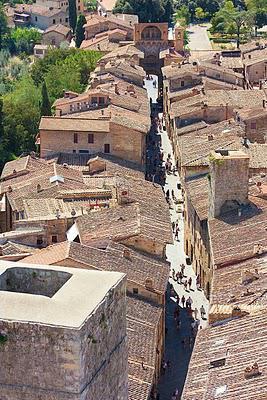 One point I did not find mentioned in my search on the psychology of tower building, concerns the emotion discovered at the top. Looking over splendour such as this, it's hard not to feel like the king of your own domain, but it's not only that. Lofty 360 degree views give you an appreciation of God's earth that is often difficult to find elsewhere. Gazing over the undulations and hazy blue distance, it's hard for me not to picture myself riding wind currents all the way to the horizon, and even though I am further from the ground, because my eye finds so much of it before me, I feel closer, and more in tune with it. I sense the earth and it's power, because I know exactly what would happen to me if I were to fall.
Our family climbed the Torre Grossa together, and it was a pleasure to watch my boys stop and breathe for long moments, just sucking in the sights - it's rare at their age to slow for anything. The climb was easy, even for an unfit gourmet beachball like me (much easier than last year's Bologna towers with a three-year-old in my arms). The views speak for themselves - if you go to San Gimignano, you cannot ignore this attraction. Last time I came, I skipped it, opting for a walk around the walls instead. From up the top, you can gaze down on all the ants walking the walls in the summer heat and laugh at their ignorance. At the base of the tower is a small gallery in the Town hall, housing some stunning Memmo di Filippuccio frescos, and other works such as Benozzo Gozzoli's Madonna and Child with Saints and Madonna in Glory with Sts. Gregory and Benedict, by Pinturicchio.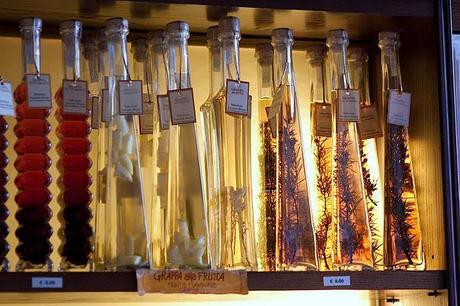 San Gimignano is no longer just about the towers, and thankfully so. It's a gourmand's heaven, lined with enotecas full of artisan pasta, smoked and dried boar, regional wines, cheese and many other weird and wonderful things. Arts and crafts also abound, in breeds of leather, ceramic, glass and paint. We even found a man making Tuscan crickets out of palm leaves - less noisy, but far more annoying, as I discovered while driving, with children having cricket-jumping contests in the back.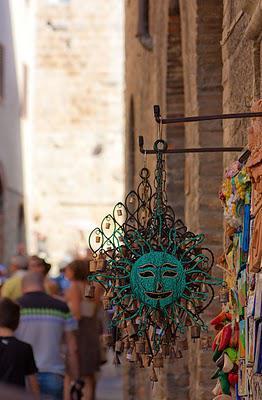 Hambone and I entered the Belsoggiorno hotel for the second time, wondering if it would work it's magic again. Eleven years ago, on our first big trip together, I had looked out the window of this restaurant and cried for the beauty. Possibly it endeared Hambone to me, for although he constantly laughs about it, he remembers every place I have done this (Taormina, an isolated black sand beach in Samoa, a cafe in the Marais, and many others that I have since forgotten). The restaurant itself doesn't flout it's view - there is no advertisement out the front, no chairs and tables outside, just an undecorated medieval red brick wall and a completely conspicuous yellow neon sign.
Inside is cool and dark, so you must get a table by the full-length windows at the end. The view drops away over a magazine-shot of Tuscany, bumped and crosshatched like an old treasured blanket. It was strange sitting there with our children. Hambone and I kept smiling at each other giddily - almost feeling the room was welcoming us back, and complimenting us on our offspring. It was our favourite meal in Italy last time we came, and again, although simple, the menu did not disappoint. But our greatest meal in Italy this time around, and possibly my greatest all year, was elsewhere. That comes in my next post....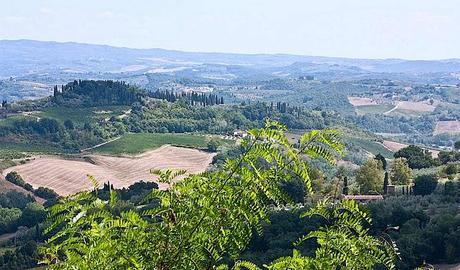 Belsoggiorno restaurant view
San Gimignano is as vital in an itinerary of Tuscany as is Siena and Florence - and possibly more so for those who like to avoid the crowds. It is pristinely in-tact, well serviced, well positioned, with plenty of its own attractions for a day or two (reliable guide here, if a little harsh), and some very worthwhile festivals, the "Ferie delle messi" being the most famous, and occurring on the third weekend in June.
We travelled to San Gimignano and back easily from our home town of Paciano in a day. Our friends chose to stay overnight, and were very happy with their room at La Cisterna, which sits on the central square and also has quad rooms for families. When we visited San Gimignano last, we stayed at Hotel Pescille, which although just our of town, we adored, with its adjoining vineyard and views of the towers in the distance. According to Trip Advisor, it's still one of the best in the area.
Leave me a comment and make my day...