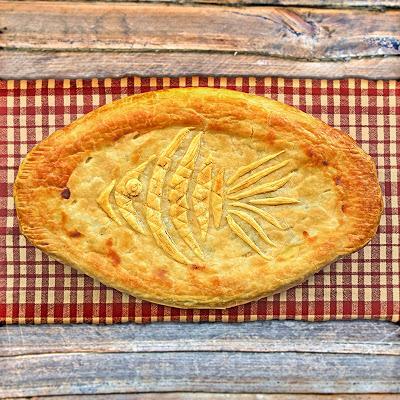 Did you know, that if you try and find a recipe for a simple white fish pie with a pastry crust in the internet, you'll struggle. It seems that there are two basic kinds of fish pie recipes you can find. The first has white flesh fish in a creamy sauce and a mashed potato top. The second has a pastry crust, but it nearly always has a variety of fish inside, including either smoked fish or some form of shellfish. So here's my simple fish pie. No poaching, no mashing, no flaking fish off the bone. Puff pastry sheets from the freezer, a dash of cream, some vegetables to make it a complete meal, and plenty of soft, mild, white fleshed fish.
Ingredients:
Puff pastry (about 300g)
750g firm white fleshed fish (see note), bones removed and diced into 2cm cubes
1 tbsp butter
1 tbsp olive oil
1 large onion, diced
2 cloves garlic, crushed
1 head brocolli (divided into small florets, stalks chopped loosely and set aside)
1 large sprig of thyme
1 cup frozen peas (or lightly coked fresh peas)
1 tsp brown mustard seeds
1/2 cup cream
1 chicken stock cube
a little water or white wine for deglazing (about 1/4 cup)
salt and pepper to taste
Instructions:
In a saucepan, melt the butter into half the oil, then add the mustard seeds. When they start to pop, turn the temperature to 1/2, add the onion and garlic and begin to caramelise (stir frequently). After about 5 minutes, add the brocolli stalks and thyme, deglaze the pan, leaving enough liquid to steam the stalks. Add stock cube. Cover and cook until soft, checking frequently and adding more liquid if necessary to prevent burning. 
I steamed the broccoli florets over the simmering onion mix. If you do not have a steamer, cook these now either in the microwave, or boil them until just tender. Set aside.
Preheat oven to 180ยบC. Take the cooked onion and broccoli stalk mix, add the cream, and pop in the blender and pulse until very smooth. Set aside.
Back to the saucepan (now empty again), add the remainder of the oil, and then lightly cook the fish. It should not really brown as it contains plenty of moisture, just turn translucent. After a few minutes, add the cream and onion mix, then the cooked broccoli and the peas. Stir through (the fish may start to break up at this point.). Season if necessary.
Add to a baking dish (Pyrex for me). Roll out pastry and cover, leaving an inch falling over the edges (pastry shrinks a little in the oven). Decorate if you like, and add a couple of steam holes with a sharp knife. Baste with a little beaten egg if you like it shiny.
Cook for 20 minutes or until pastry is desired color. 
Serves 4 - Eat while hot!
Note:
for fish, I used a local fish - hamour - from the UAE, which is unfortunately over-fished but also the most stable variety for a dish like this. It is a grouper also known as a brown spotted reef cod - a large, coral dwelling fish. Any cod would probably work well. If I was in Australia, I would use some blue eye or rockling. But basically, any white fleshed fish you can buy in a large fillet will probably work. Some, like for example Snapper or Sheri, will cook a little faster, so just turn it over a few times in the saucepan before adding the rest of the ingredients and popping it in the oven.