This weekend I have the school ball on Thursday and on Friday, a Bollywood party held by a frenchman to go to. I'll be spending the daylight hours in the pool for what may be the last weekend, as we cannot convince our landlord to put a chiller in.  Sadly I've cancelled my trip to Beirut, so I'm still on the lookout for something to do next weekend. Maybe Doha?
In a perfect world, where money is no object and there are 48 hours in a day, this is what else I would be looking forward to right now:
UAE

May 30-June 6
Toro Toro's '
Peru Mucho Gusto' -
One of my favorite Dubai Pan-Latin restaurants is concentrating on Peru for a week. You can either go with the tasting menu, which offers small plates of all the classics, or you can dine a-la-carte. There is a dessert on the menu called
suspiro,
which sounds incredible - dulce de leche foam, black quinoa cookie, grilled pineapple, banana ice cream and almond oil.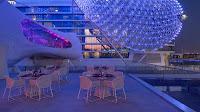 Anytime
The summer offers have begun. My pick for this week is the Yas Viceroy, where families can stay in a suite for 1079AED, and with that get complimentary admission to Yas Waterworld for two adults and two children, 20% reduction on all ESPA Escape Packages, includes use of the steam room waiting lounges and relaxation areas, half board lunch or dinner supplement of AED 175 per person and children under 12 years old eat totally for free. Considering Yas Waterworld entry is 225 for adults and 185 for kids, this is an incredible deal.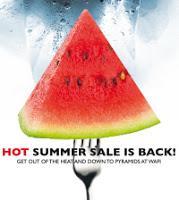 May 30 - August 31
Wafi have begun their summer sale on dining and leisure. Carter's -  22AED on pints of beers & 20 AED for a glass of selected wine & spirits, Vintage - buy one bottle, get one free (from the sommelier's special selection), Medzo - buy one main course and receive the second one for free, Asha's buy one cocktail and receive the second one for free, Cleopatra's Spa have 50% discount on selected treatments. There's a few more, but you get the drift.
Of course Jumeirah Restaurant Week also continues for the next two days.  
Rest of the World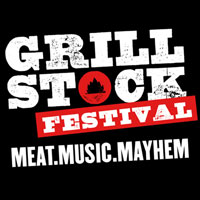 June 8-9 UK
This looks like a bit of fun. The Grillstock BBQ Festival in Manchester. Basically, beer, beef, smoke, a "king of the grill" comp, a whole lot of music, and unless the UK weather does something fast, probably a mud-fight.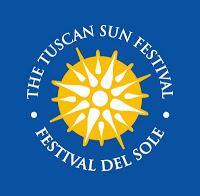 June 11-18 Italy
The Tuscan Sun Festival
. Eight days of food, wine and the arts in Florence. Concentrates on Film, but you'll also find some superb dinners in town, and the streets will be filled with revellers. Exciting time to be in Tuscany.
June 20-24 France
Centering around June 23 is the
Feux de la St Jean
. This is a Summer Solstice fest that takes place in many parts of France, but the place to pick it up is probably Perpignan, as it involves a week-long Catalan trek over the mountains (and plenty of partying in the town) before the big day. On the day itself, expect a huge bonfire, magical herbs, and an obscene amount of pork. Look out for Ollada in particular, a very traditional pork stew with just about every part of the beast and sausages to boot.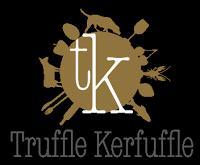 June 22 Australia
Truffle Kerfuffle
- Manjimup, WA. This is Australia's best truffle festival, just outside of the Margaret River wine region. But it's not just about truffles. There will be small plates of yumminess of course, but also the Southern Forest farmers' market, wines from all over the region, and masterclasses offered by Australia's top wine makers, chefs and wine writers. It all finishes with a gala dinner.