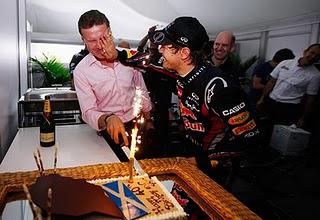 David Coulthard and Sebastian Vettel celebrating
the Scot's 40th birthday with Vettel smearing
cake in the birthday boy's face.
So what has the first grand prix of the season called attention to, except that Sebastian Vettel was enjoying himself not only on, but just as much off the race track?
The race weekend in Melbourne held a few surprises, for one McLaren's comeback after disastrous winter tests, Ferrari's and Mercedes' struggling for pace, the rather ineffective adjustable rear wing and, not least, an unexpected longevity of the new Pirelli tyres.The one thing that could be expected was Sebastian Vettel's dominance. He was almost eight tens of a second faster than second placed Lewis Hamilton in qualifying and within the first two laps of the race Vettel was able to open up a gap of more than three seconds. In the following laps Hamilton was able to close the gap slightly and the Briton might even have challenged Vettel further, had there not been an issue with the floor on his McLaren.
There are rumours that, 
compared to their close competitors,
 Red Bull have an increased rear tyre wear, which would also be an explanation for both Red Bull's inability to transfer their superb one lap speed into longer stints and for not using the KERS system, which is known to additionally diminish the rear tyres' durability.
Speaking of KERS, as just mentioned, Red Bull did not use KERS, neither in qualifying nor in the race. Whether this was because of the aforementioned increased rear tyre degradation or due to issues with the KERS system itself, Red Bull has not revealed so far. One thing is for certain, though, once Red Bull resolve the KERS-related issue, the use of this system will bring them an additional advantage of roughly half a second per lap. This will make it even more difficult for the other teams to catch up.McLaren seem to have recovered from their poor performance showed throughout winter testing in Spain. McLaren's problems were primarily solved by abandoning their complex exhaust system, which had been the major cause for their reliability as well as their performance issues. Nevertheless, McLaren are not giving up on their special exhaust system and claim that up to one second per lap could be gained once they will be able to make it work properly.Ferrari's poor results in Melbourne were mainly due to their poor qualifying performance. According to Fernando Alonso this originated in the car-related inability to get the tyres up to temperature within one warm up lap. Therefore, they had to do more laps which in turn resulted in slower lap times because of the degradation of the tyres. Ferrari commented that they did not fully understand the cause for this problem since it had never occurred throughout winter testing. The Italian team assumed that the issue was related to the tarmac in Melbourne and they expect it not to reappear in Malaysia. Throughout the race the Ferraris were competitive with Felipe Massa and Fernando Alonso setting the fastest laps of the race.Mercedes were very quick at the final winter test in Barcelona with Michael Schumacher setting the fastest lap time in the dry and Nico Rosberg in the wet, but Mercedes were unable to carry on their speed to Australia. Aside from not finishing the race, Mercedes were nowhere near the front, neither in qualifying nor in the race. Ross Brawn stated that this was due to the team's inability to make all the new parts work together and that therefore they had to make compromises. Without further testing possibilities it remains uncertain whether Mercedes will recover for the next race in Kuala Lumpur.The adjustable rear wing was a disappointment in Malaysia. Jenson Button, for instance, at the beginning of the race was stuck behind the much slower Felipe Massa and the adjustable rear wing did not help at all. Also on other occasions the effect of the rear wing was negligible, e.g., when Fernando Alonso on lap 40 unsuccessfully tried to overtake Mark Webber, who did not even have KERS in defence. One of the few overtaking manoeuvres aided by the adjustable rear wing I have seen was Jenson Button against Kamui Kobayashi on lap 25.
While I agree that it is important that overtaking does not become too easy, Melbourne did not deliver what the adjustable rear wing was introduced for. Hopefully, future tracks will play more into the FIA's hands, allowing the rear wing to be deployed in a more influential way.
Pirelli have been criticised before the start of the season, not least by world champion Sebastian Vettel, who predicted a slow down of lap times by 4-5 seconds within one stint and three, four, or even more pit stops throughout the race. This concern has not come true so far. Many drivers did only two pit stops and Sauber's Sergio Perez was even able to cope with one single tyre change. So on the contrary, if something was wrong in this regard it was that the rubber was too durable. For the next two grands prix the Pirelli compounds have already been decided for, hard and soft being the prime and option tyres, as in Melbourne. Afterwards, Pirelli might decide to use a more unconventional approach. As winter tests have shown, though, the asphalt on other tracks might alter the tyres' durability significantly.